Two easy & affordable DIY wedding favors tutorials in this special 2-part episode!  Listen now:
Info about how to access this episode, along with 75+ additional archived shows –

The link to the amazing "100 Unique Wedding Favors" guide from Wedding Paper Divas can be found by clicking the image above!  Search one hundred wedding favor ideas by category:
Sweet Foods, Savory Foods, For the Home, and specific DIY Wedding Favors
The first project I experimented with was Oreo Cookie Pops, and they came out AMAZING.  I would 100% recommend this to anyone out there looking for an affordable, fun, and easy wedding favor DIY idea.
OREO COOKIE POPS SHOPPING LIST
"Candy Melts" (available in the cake decorating aisle at your local craft store) – 1 pkg made about 15 pops)
Popsicle / lollipop sticks
Plastic "wrapper" bags
Ribbon, twine, or twist-ties to close the bags
Oreo cookies
Sprinkles of your choice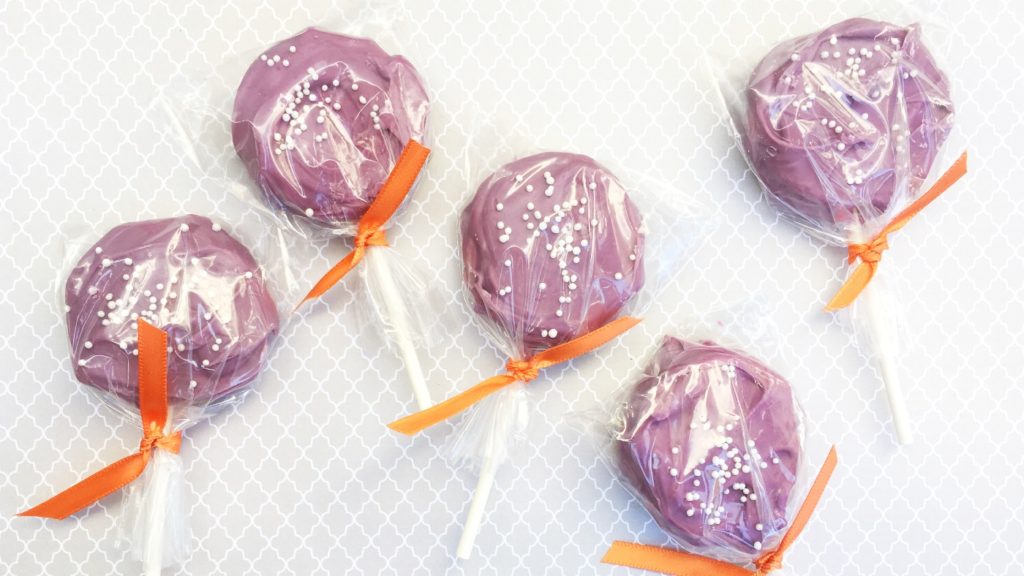 COST
$0.40 per cookie pop  – this includes everything I shopped for AT FULL PRICE.  Have a coupon, or catch the ingredients on sale?  Awesome, that price will be much lower!
DETAILS + SUCCESS TIPS
Each package of "candy melts" made about 15 pops per bag (not 25)
Melt the candy chips over VERY low heat and stir constantly
The chocolate stays pretty thick, even when fully melted.  You may find yourself "frosting" the cookies with a small spoon on all sides.
Put the stick in all the way to the TOP of the cookie so that it's anchored in well.  Make sure you cover the top of the stick with chocolate as well, so that when it hardens, it will be anchored all around.
Add sprinkles right away on the wet chocolate.
They will take overnight to completely harden.
MINI SUCCULENT POT SHOPPING LIST
Mini terra cotta pots from the craft store
Acrylic paint
Potting soil
Succulent clippings
Personalized favor tags
This project is so customizable … you certainly don't have to even paint the pots.  You could fill them with candies instead of soil and a succulent.  You could add a personalized favor tag, like shown in the photos below (link to purchase below too – SO CUTE!!!).
I love this DIY wedding favor idea, because it's such a blank slate.  You get to pick and choose exactly how much time, money, and effort you want to spend!
View details on these beautiful succulent projects & more at
Shop beautiful custom favor tags at Shutterfly Weddings:

Sign Me Up!
Sign up here for access to behind-the-scenes podcast show notes & more! Delivered to you weekly via email so you don't miss a thing -