Candid wedding photo storage + organization deserves some special thought.  Don't risk losing hundreds of priceless candid photos, left to fade away on someone's phone, never to be seen or shared!  Listen now:
These days, nearly everyone has a high quality phone at their fingertips, snapping pictures constantly.  In the months, weeks, days leading up to the wedding, your friends and family are likely to capture hundreds (if not thousands) of candid photos that are just as meaningful as the ones shot by your wedding photographer.
The trouble is that so many of those photos are never seen or shared!
How many times have you thought "oooo, I need to send that photo to Kate, it's so cute" – but you never sent it?  Now, multiply that by 100+ wedding guests, and you're missing out on a LOT of memories!
Candid snaps from engagement parties, wedding shopping trips, DIY crafting parties, bridal shows, dress shopping, hair and makeup trials, and then of course your guests' perspectives from the rehearsal + wedding day itself – Tacboard.com sets you up with very simple tools to capture all of these special pics.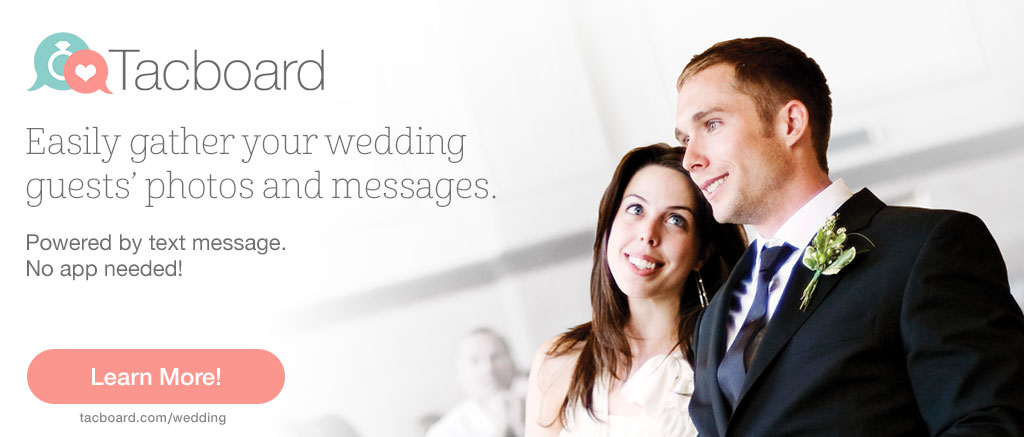 DETAILS
TacBoard is powered via text message and a unique gallery phone number assigned to your wedding – no app installation or separate signup necessary!
Gather unlimited photos for an unlimited time before the wedding – there is no limit to how many memories can be shared.
Complimentary table tent cards are included to display your phone number prominently at the rehearsal and reception.
Live stream your gallery for a fun, interactive guest experience – requires very minimal equipment and technical skill!  Click here for a message from James: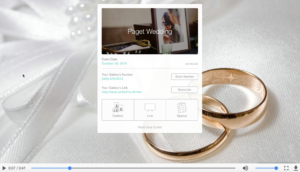 Choose from dozens of custom gallery themes to personalize the look of your live display.
Your gallery will never expire or be "taken down".
Easily download, share, and organize your candid photos straight from your desktop.
LIVE STREAM EQUIPMENT LIST
Laptop computer,
Projector OR Big Screen TV,
Wi-Fi connection
HDMI cable
BONUS RESOURCES!
There's more!  James has also created these FREE resources for you to enjoy!
Free Wedding Timeline Generator
Easily create, personalize, and download your very own WEDDING 
 DAY TIMELINE at https://tacboard.com/wedding-timeline.html 
Just enter your wedding day info and download your FREE PDF! 
Free Signature Cocktail Sign Generator
Want to make your own signage for your wedding?
Check out our FREE SIGNATURE COCKTAIL SIGN GENERATOR here!
https://tacboard.com/signature-cocktail.html to personalize & download your very own COCKTAIL SIGN.
Questions about signing up for TacBoard, configuring your live stream, or using TacBoard in general?  James and his team would love to help!  You can contact them here:
WHAT PEOPLE ARE SAYING ABOUT TACBOARD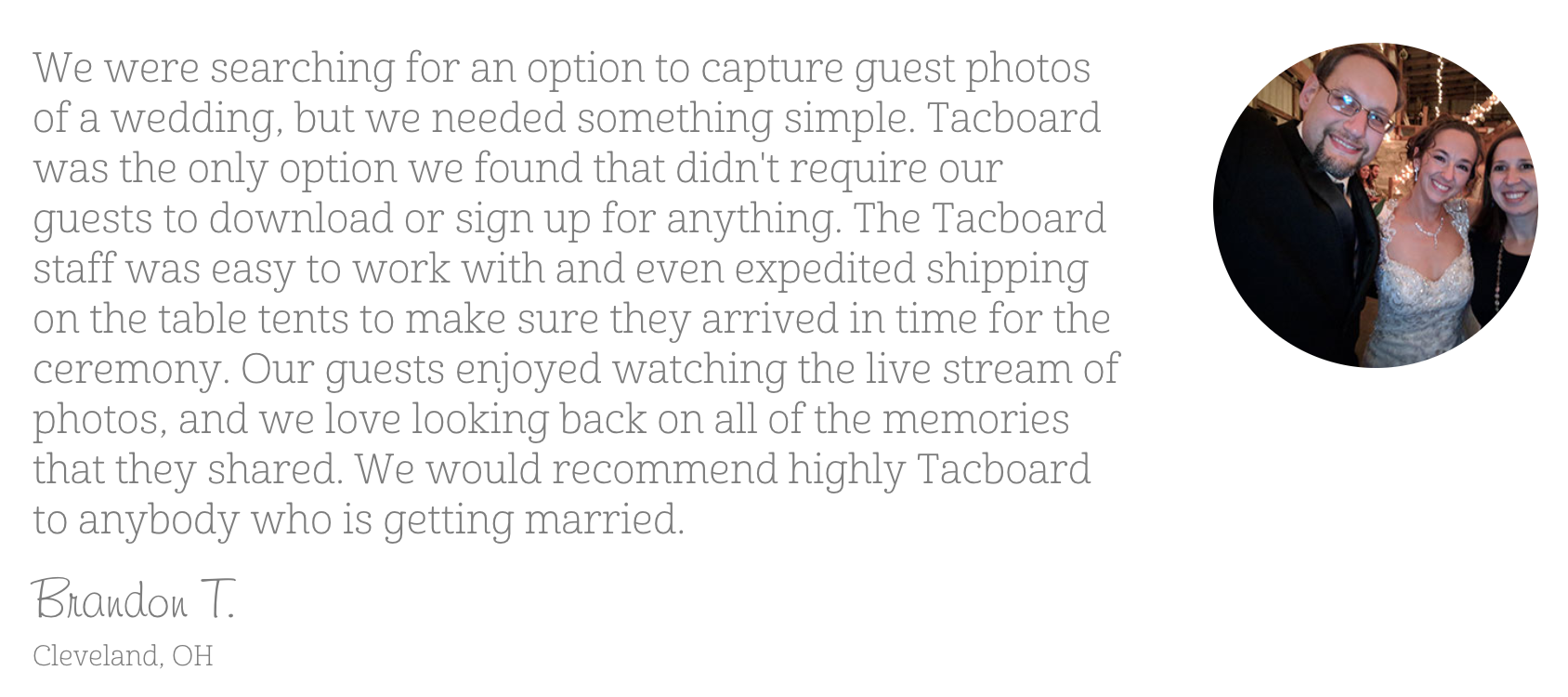 Questions for me about today's episode?  Please be in touch!
kara@weddingplanningpodcast.co
Cheers until next time!
I want a FREE Engagement Starter Kit!
Get your wedding planning journey started on the right path! Sign up here for the Engagement Starter Kit, including 3 detailed audio meetings that you can enjoy wherever your busy life takes you - FREE!