Let's explore some creative wedding day formats that go beyond tradition!  Does a dinner & dancing reception sound a little dull – been there, done that?  
Today we're going to walk through some fun & creative wedding day ideas.  We all know & love the afternoon ceremony followed by evening dinner & dancing reception.  But, maybe that's not your vision!  
Today's episode is perfect for those of you who are newly engaged and still working out the details of what your wedding day will look like.
This episode of the Wedding Planning Podcast has been archived, and is currently only available to members of The VAULT.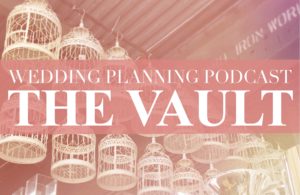 Creative Wedding Day Formats for review …
Brunch Wedding
Go for it if you're looking for affordability + the opportunity to set up a killer DIY mimosa bar.  Keep in mind that you're going to have a severe time crunch the morning of getting ready, which is the major downfall to this format.
Cocktail Wedding
Pro's & con's are much the same as the Brunch Wedding – see above.  I LOVE the idea of doing a cocktail reception, then moving into a small, intimate dinner with only your closest family & friends!
Holiday Weekend Wedding
A long weekend gives guests more time for travel.  This is primo for hosting a multi-day event, like a big welcome party, wedding day, followed up by a brunch on the day after.
The not-so-good?  Expense + availability crunches happen over long holiday weekends.  Plan well in advance.
Courthouse Wedding
OK, this one is quick + easy + gives time to save for a larger wedding celebration down the road.  The downside is missing out on the tradition + fanfare, but for some of you, that's exactly the point.  Round this out with an intimate celebration afterwards, like a wedding day brunch or evening dinner with your closest friends & family.
Destination Wedding
If John and I renew vows and pretend to get married all over again, look for us in the islands!  A destination wedding is easy to plan.  You're banking on a built-in vacation with your closest friends & family.  My favorite creative wedding idea by far!
Downsides will be expense for your guests, and availability due to travel schedules & weather.  Do your research & make sure you don't get stuck in hurricane season (those were the cheapest dates for a reason!!!)
I hope you enjoyed today's episode, and got inspired by some alternative wedding day format ideas!