Confession – we spent almost as much money on our honeymoon as we did on our entire wedding.

 
Why?  Because John & I are extremely passionate about travel, so this is a deeply personal show that I can't wait to share with you!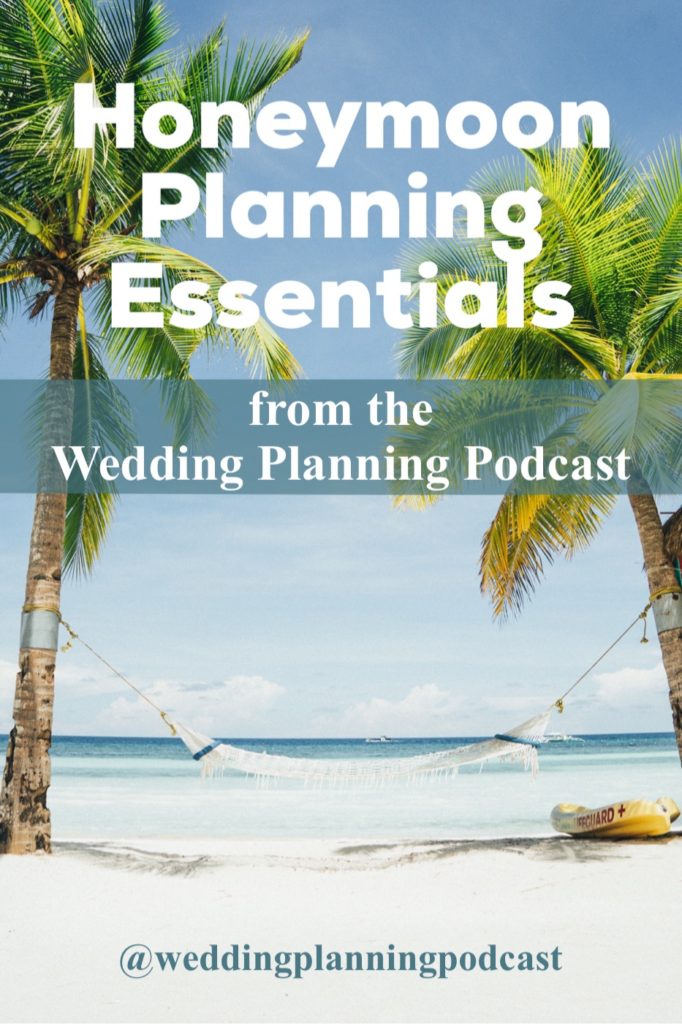 Right after our wedding, we spent two weeks together in Italy, exploring Cinque Terre & Rome.  It was a magical trip that we will never forget, and I'll never regret spending the time and money.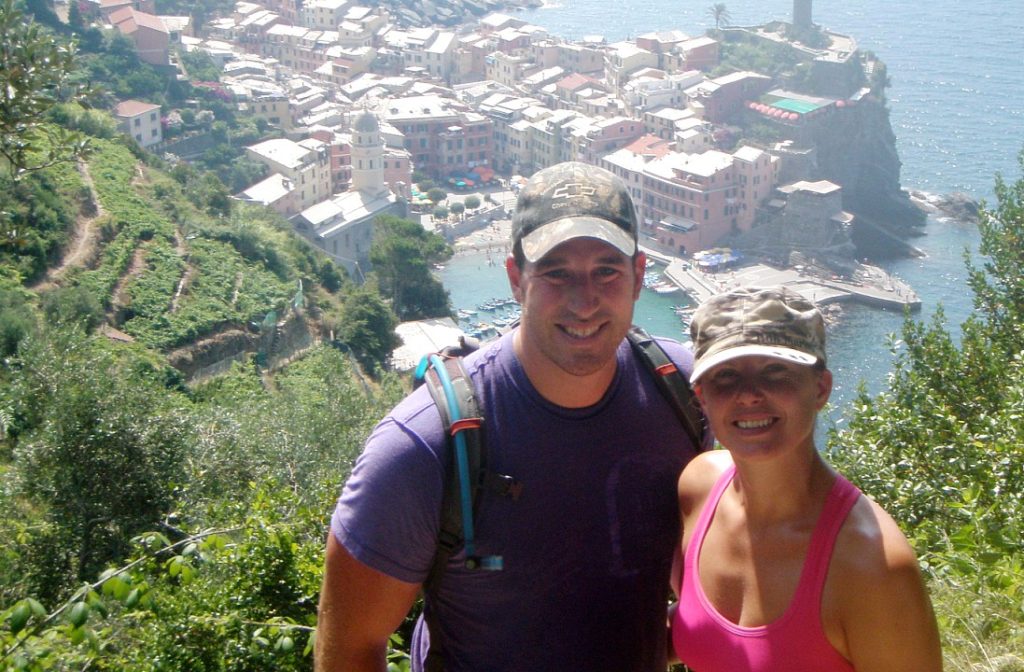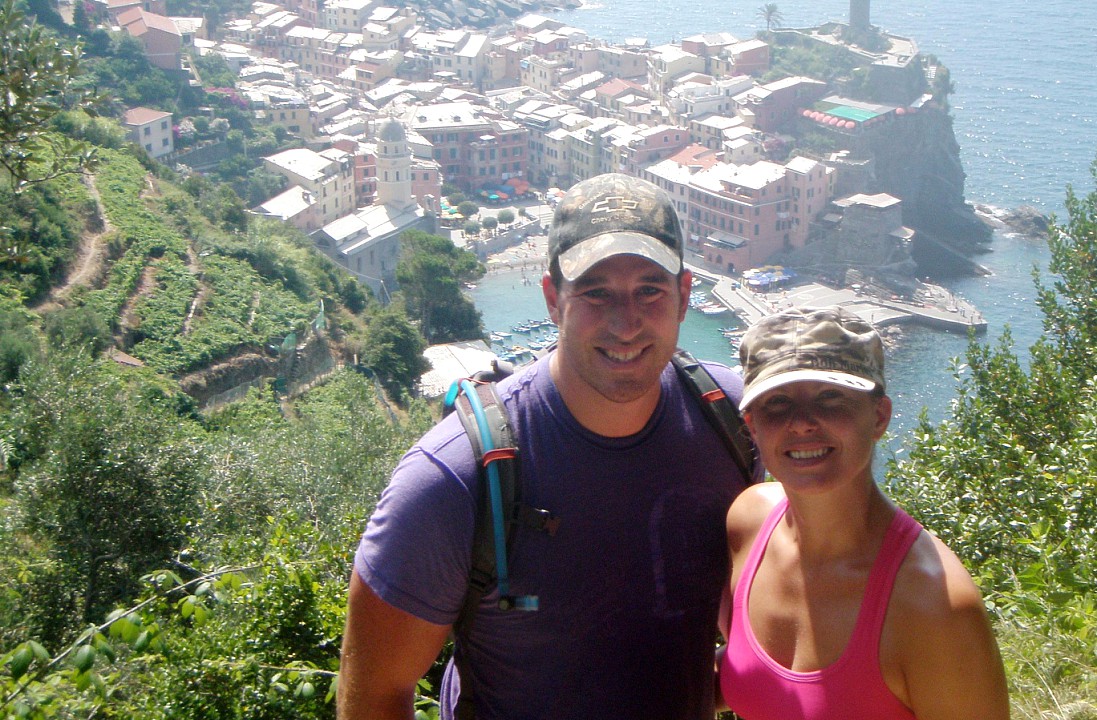 Honeymoon planning can get lost in the shuffle when you're planning a million other things, so today I wanted to share some honeymoon planning essentials you can use to get started designing the trip of a lifetime.  We're gong to cover:
Some creative honeymoon ideas,

Creative ways to fund your honeymoon plans,

The BEST time to book your travel,

How much to budget for your honeymoon,

AND MORE!

 
Based on my own travels, my top 3 spots for a honeymoon (all completely different price points and vibes):
An extensive loop through Italy,

An all-inclusive resort in Cabo

A road trip in a camper van (personal fave spots being Big Sur & Joshua Tree, but literally anywhere in nature would work!)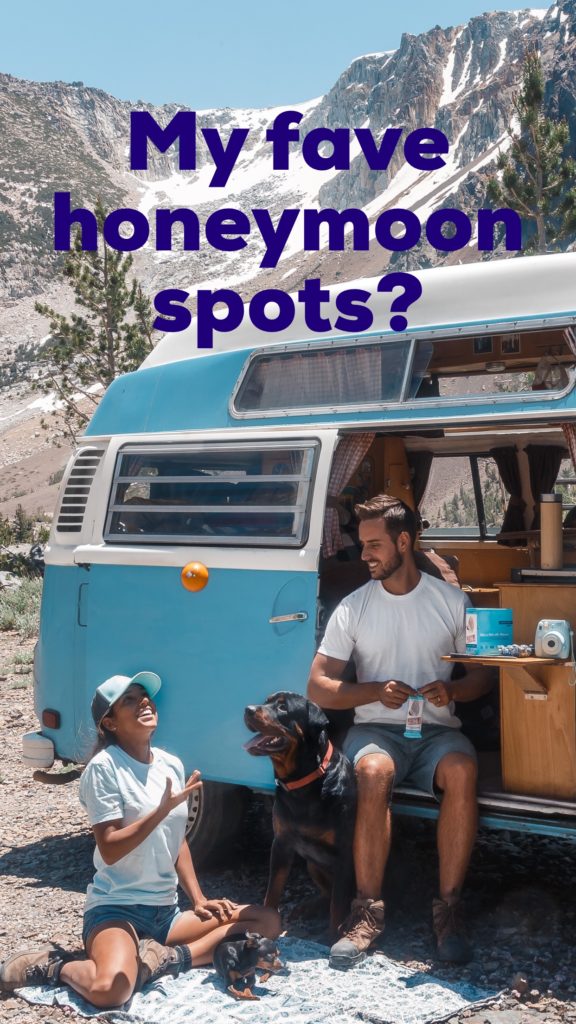 First thing – Narrow down the "type" of honeymoon you want from a ton of creative options. 
Sky is the limit, you're definitely not required to spend a ton of money, or even get on an airplane.  Think about how much time you can commit to the trip, how much money you're willing to spend, and make a brainstorm list of some places that interest the two of you.
Some of my favorite honeymoon options, from a variety of price points and NONE of which require a passport:
Rent a vintage van and road trip / camp for a week through national or regional park,

Head to Puerto Rico for an island vacation (that's not Hawaii),

Hit a seasonal event you've always wanted to attend and make it a vacation – a music festival like Coachella, Mardi Gras in New Orleans, hot air balloon festival, Burning Man, whatever you're into 😉

Head to Vegas and spend a few days in a luxury hotel, wining and dining through the city

Got time to spare?

 

Do an epic, once-in-a-lifetime hike, like the Pacific Crest Trail from Mexico to Canada for my west coast friends, or the Appalachian Trail, from Georgia to Maine.
When should we go on our honeymoon? 
Right away after the wedding vs. waiting a few months or a year …
There are pro's and con's to both sides. 
I'll spoil the suspense right away here by sharing that I really prefer the honeymoon immediately after the wedding, and here's why –
The weeks and days leading up to your big day can be a level of chaos that you've never experienced.  The relief of getting on a plane and skipping town for a while at the end of the whirlwind is priceless if you ask me.
It gives the two of you time to come down, relax, and let everything sink in.  I personally feel like this time away, just the two of you, is the perfect way to wrap up the wedding experience.
At home there's work, chores, errands, everyday things, and that will all come rushing back soon enough – keep that pause button pressed for as long as you're able.
Switching gears,
The two biggest CONS to honeymooning right away are TIME & MONEY.
You've likely taken some time off work for the wedding, and those vacation days can run short really quickly.  Waiting for the next year of time off to roll over is a perfectly reasonable excuse to postpone the honeymoon – that way you're not rushing to cram a trip into a long weekend, scrambling for days off, and stressing about fitting everything in – the completely opposite feelings we want going into it!!
And then of course there's money –
I know I don't need to tell you that weddings are expensive.  And for you, maybe dropping an extra few thousand dollars at the end can feel like a really poor decision. 
I'm all about financial responsibility, don't get me wrong.  But I do want to object to this point from a couple of different perspectives –
The first one is, this doesn't need to be a $10,000 trip.  Going back to my list from earlier in the show, a honeymoon can be as simple as packing up the car full of camping stuff, and driving an hour or two away, and unplugging from reality for a few days. 
So if you WANT to take a lavish, extravagant trip but don't have the money to do it right after the wedding – I would still encourage you to do something small, simple and inexpensive in the days after the wedding, just to get away.  Trust me, you're both going to need it for your sanity and well being!
The second thing here about money, have your guests fund the honeymoon with a registry website like Zola.  I hear from you all the time about not needing more "stuff" for wedding gifts, and how to ask for cash instead … asking your guests to send you on this trip is the greatest gift ever, and will mean much more in the years down the road than appliances and linens that you really didn't even need in the first place.
It's exceptionally easy to create a Honeymoon fund on Zola – you can write a fun description for your guests, add your own photos, and you'll even get a $50 credit when you sign up at zola.com/wpp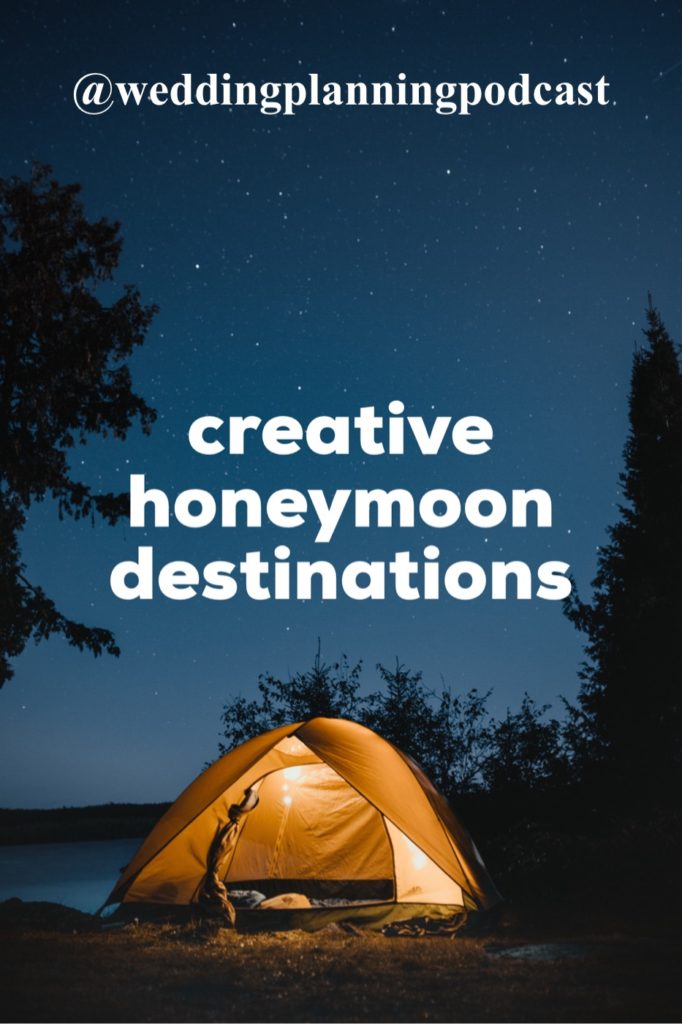 Some of your questions on honeymoon planning, starting with …
How much should we budget? 
"Hey Kara, thanks so much for your weekly shows, your advice has been so helpful in planning our June 2020 wedding!  We're trying to stay within a $20,000 budget for the wedding, and I wonder what do you think is a reasonable amount of money to spend on the honeymoon."
Great question.  What's "reasonable" to me is an amount that reflects how much of a priority this trip is to the two of you.  If you've done a ton of traveling in the past few years, and you're simply looking to unplug and run away from "real life" for a few days after the wedding, you could get away with spending a few hundred dollars. 
If it's been your dream as a couple to spend 3 weeks in Bali, then I think it's reasonable to budget much more money towards the honeymoon. 
IF the trip you have in mind is more elaborate and requires a bigger investment, I'd suggest looking for places you can cut and reallocate some of your budget over towards the honeymoon.
I personally will always prioritize experiences over things, and this is where my passion for travel takes over – not everyone values the same things, so while a $10,000 trip seems perfectly reasonable to me, that might give someone else a heart attack even thinking about it.
I mentioned very briefly at the start of today's show that John and I spent as much money on our honeymoon as we did on the wedding – which again was perfectly reasonable to us, but sounds extremely weird to others. 
To put it another way, if you're torn between a $5,000 dress and a $5,000 trip to an all-inclusive resort in Mexico, I'd drop that dress so quick, buy something off the rack for a couple hundred bucks, and start packing my honeymoon bags!
I hope that's helpful!  Again, I know that we all value things differently.  In my experience over the course of my adult life, I don't regret one single dollar spent traveling, seeing the world, and experiencing new things. 
Next question, what are some of your favorite honeymoon destinations?
I've traveled extensively through Europe, Mexico, and the US but have not experienced some of the more exotic honeymoon destinations you'll come across in blog posts and online searches. 
Based on my own travels, I'll pick my top 3 spots for a honeymoon, all completely different price points and vibes:
A loop through Italy,

An all-inclusive resort in Cabo,

Or a road trip in a camper van, personal fave spots being Big Sur & Joshua Tree, but literally anywhere in nature would work.
Having a honeymoon fund feels tacky, like we're asking our guests for money.

 

Your thoughts on this?
Tacky is relative, and you're never going to land on one solution that everyone agrees is the "right" way.
There are people out there who think it's tacky to register for cash funds like a honeymoon, and nothing will change their minds.  I do think it's important to offer your guests a variety of gifting options, so that if someone is opposed to writing a check, putting cash in a card, or contributing to an online fund, they can purchase a physical gift that's wrapped and brought to the wedding. 
Offering a variety of gift options is part of what I love so much about Zola – you can have your "funds" set up, in addition to adding physical gifts like name brand appliances, home decor, furnishings, etc.  To take advantage of $50 credit towards your online registry, visit zola.com/wpp
And on the topic of cash gifts, a huge thank you to Nicole, who sent in this sweet little poem that I want to share – they included this wording on the bottom of their wedding invitations, and it strikes a perfect balance of why you're asking for cash, and also giving your guests another option:
"If you're thinking of giving a gift
to help us on our way,
A gift of cash towards our honeymoon
would really make our day.
However, if you'd prefer to purchase a gift
Feel free to surprise us in your own way."
What's the best time to book tickets to get the best deal?
This is also an amazing question, and I'm going to defer to Susan & her team of experts!  Let her know where you're thinking of going and when, and she'll take care of you – remember to mention that you heard her on the Wedding Planning Podcast for $50 off your booking!  Email susan@susanstravelservices.com
Last point for today is related to time & money investment in your honeymoon.  Please don't be tempted to hack together honeymoon plans if you're not an experienced traveler. 
You might find airfare to Hawaii for just a couple hundred bucks, and be horrified to find out how expensive resorts & restaurants are there. 
Similarly, you may see a flight to Bali that's $1000 and nearly choke from sticker shock, not even realizing how affordable it is to eat, drink, and play once you get there.
Look at how cheap these tickets to the Caribbean are!!!!  That's because it's hurricane season. 
Dreaming of laying on the beach in San Diego in February?  It's a myth, it's really not 72 degrees and sunny year round here, and you'll probably freeze your ass off.
Using a professional to help with your honeymoon plans is always a good idea, even if it's just to run a few things by like location, time of year, and general budget.  Please feel free to reach out to Susan with your honeymoon questions by emailing susan@susanstravelservices.com
With that, I'll wrap up today's show on honeymoons, you can always be in touch with questions by sending a DM to @weddingplanningpodcast on Instagram, go pack your bags, and I can't wait to talk again next week!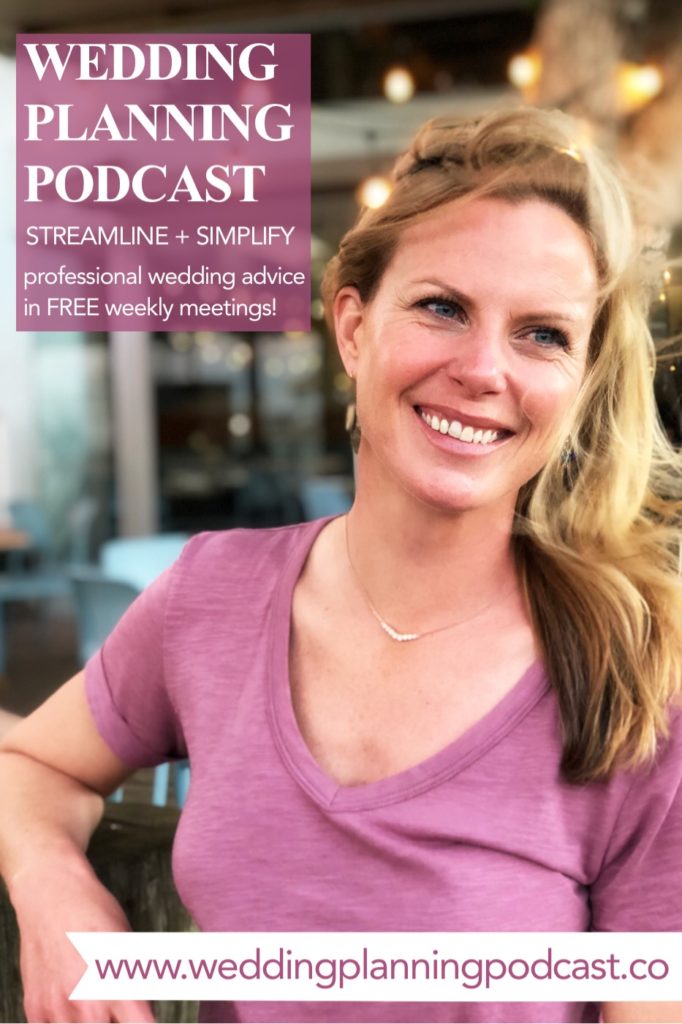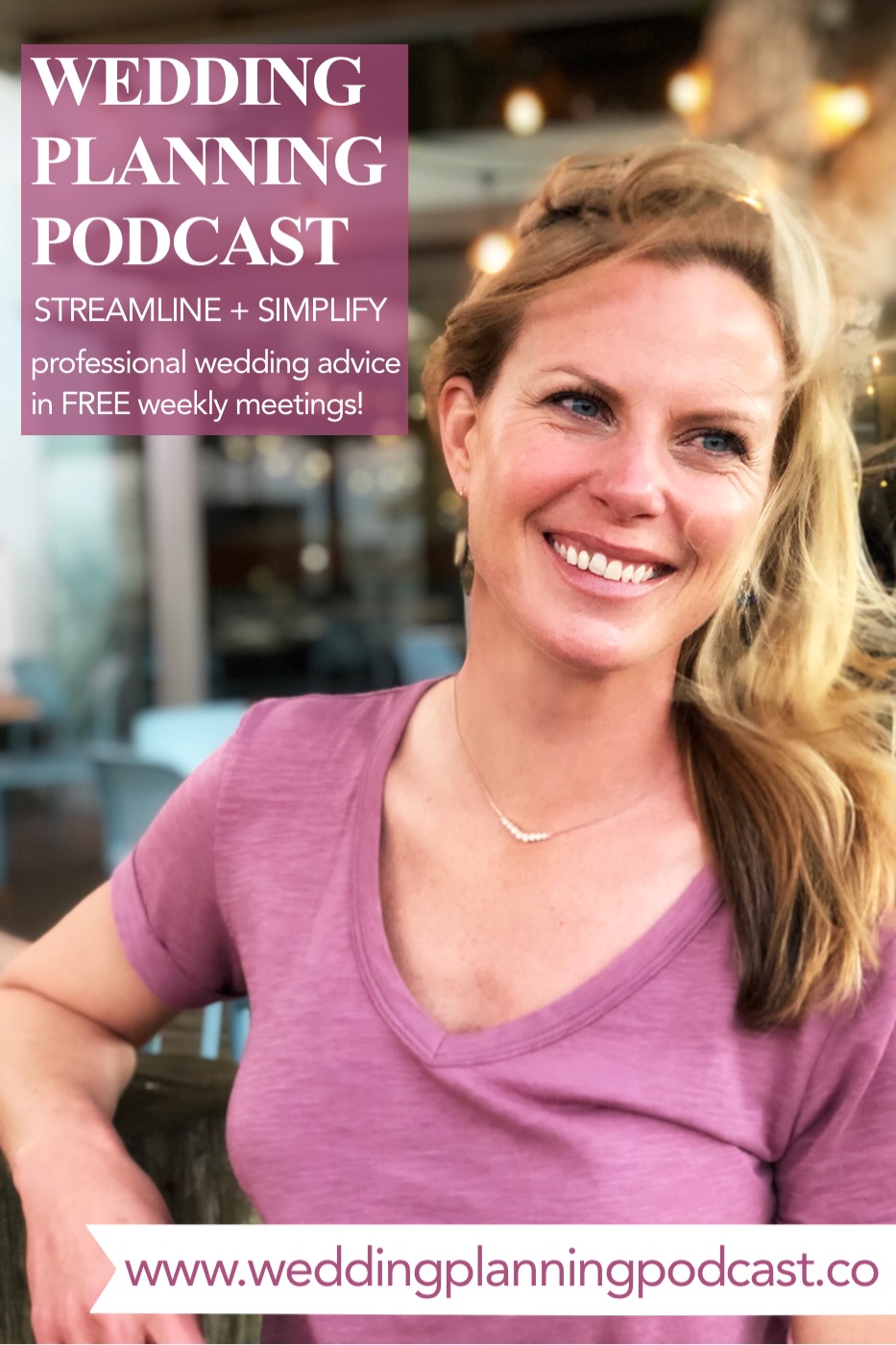 BONUS!
MY TRAVEL JOURNAL – ITALY
Italy is one of our favorite places to travel, and I would love to share some notes!
Depending on the vibe you're going for, each place below has a very different tone …
We spent our actual honeymoon in Cinque Terre, specifically Monterosso.

 
This was 9 years ago, and I understand from my sister who has been there within the past 3 years that it has changed – specifically, the number of tourists has skyrocketed, making it very crowded.  Also notable, the hiking trail that used to connect all 5 seaside villages (this was definitely a highlight) has since been closed off in certain areas due to massive landslides in past years. 
All this said, would I go back?  ABSOLUTELY.  It was magical, and totally worth exploring.  Google image search "cinque terre" for a snapshot.  We spent most of our time renting chairs & umbrella on the beach in Monterosso, and taking the train to the other 4 towns to explore.
Rome is also stunning, in a very BIG CITY way – this is a natural coming & going point in terms of travel in and out, and definitely worth a few days to explore.  We spent the last few days of our honeymoon here.
And in a different trip, we explored …
Much more low-key is Lake Como area – stunning landscapes & scenery, with a little less hustle & bustle.  Not a ton of stuff "to do", but the views are amazing, and this would be a wonderful spot to just relax.
Venice is an incredibly charming, crowded, romantic, wonderful place to explore, and we both absolutely loved our time here.
My favorite thing about Italy is the relaxed & friendly culture, the amazing food, and the breathtaking sense of history (which you'll find throughout Europe, but especially felt in an ancient city like Venice & Rome).
I could talk about it forever, and I hope these notes are helpful to you!  Thank you again so much for listening to the WPP, and please keep in touch as your plans unfold!
xo, Kara
Wedding Industry Secrets, UNLOCKED.
Enter your email address below & I'll send you 3 BONUS audio shows of the Wedding Planning Podcast!
Each bonus episode includes valuable insight into the secrets that the wedding industry is hiding from you ... trust me, you don't want to miss it.