You're starting to formulate your wedding seating chart … and it's quickly becoming a nightmare.  Sound familiar?
For many couples, the seating chart is a dreaded task in the last couple weeks leading up to the big day.  Thankfully, I'm here with good news – I don't think your seating chart deserves a ton of stress or overthinking!  Listen now:
This episode of the Wedding Planning Podcast has been archived, and is currently only available to members of The VAULT.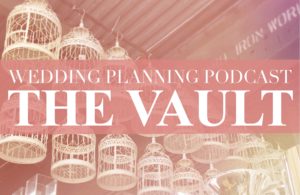 This week's show is sponsored by KVW
.  Browse dozens of beautiful ways to show your guests to their seats with custom Place Card Holders, unique favors, DIY supplies, & more!  
​A special thank you to Feather & Oak Photography for this beautiful shot of Brittney's Place Card Table!  She used our Single Wine Cork Place Card Holders with different colored roses to indicate each guests' meal choice. 
Click the audio player below to learn more about gaining unlimited access to archived episodes of the Wedding Planning Podcast: