Hi friend!  Thanks so much for joining me for a quick & easy review of exactly how to create your wedding website.  I know, creating an entire website may sound a little intimidating.  I promise – this is a really fun and EASY way to communicate with your guests throughout your engagement.  Let's dive in!
Today's show is brought to you by our friends at Minted Weddings.  Enjoy freshly sourced wedding website designs from an incredible community of independent artists & designers.  FREE Minted wedding websites include all the tools you need to get started, and you'll even receive a $50 credit towards your wedding stationary when you start your free wedding website today!

So, why do we need a wedding website?
Well, the basic answer is that this is a really easy and fun way to communicate to family & friends all about your engagement, and the wedding itself. 
When should we get started on our wedding website?
Ideally, your website should be up and running when you send out your save the dates.  I recommend that you include the website address ON the save the date cards or email, however you're notifying people. 
(We'll go into electronic save the dates & invitations much more later in today's show!)
If your save the dates are already in the mail, and you didn't include your website, not to worry.  It's definitely not too late to put a website together for your guests to reference from here on out. 
You can always include the website address on the bottom of the invitations, and you can spread the news via word of mouth.  People will naturally start asking about where you're registered, accommodation recommendations, etc., which is a perfect time to point them to your wedding website. 
What sorts of things should we include on our wedding website?
YOUR ENGAGEMENT
Most wedding websites will be very flexible in allowing you to post photos, videos, and blog or journal style entries.  For those of you in the early stages of planning, consider setting aside some time to document your engagement story in a written post that you can publish on your wedding website. 
This is a really sweet way for you to tell your family & friends the details of your engagement story.  I know, you put it up on Facebook in a couple sentences the day-of because you were SO EXCITED.  I mean a narrated, detailed story of exactly when, where, and how the question was popped.  What you were wearing, what exactly was said, where you were … exactly how it all went down.  Your guests will LOVE to hear all the details!
Now, if you're not a writer, and this feels a little too time consuming (or just not fun), that's fine!  A wedding website is a perfect place to show off a gallery of photos, especially candid photos from the engagement moments, or your finished engagement photos.
And lastly here, you can also add pictures of other big events that take place during your engagement, like the engagement party, bridal shower, and other wedding parties.
A little side note, but a very important one!
Be sure to take the time to document all of the special moments during your engagement!  Don't get too busy and distracted by the wedding itself.  Remember to have someone taking pictures of all the fun steps along the way.  Not JUST to share on your wedding website, but to have as a fun memory of these very special months leading up to the actual wedding.
Some examples of fun moments to capture & display on your wedding website: 
Your cake & catering tastings,

Venue shopping,

DIY projects with your girlfriends,

Dress shopping (you may not want to share those before the wedding day, but trust me, all of these moments will be treasured in years to come!).

 
My point?  Don't let the "busy-ness" of wedding planning distract you from slowing down to enjoy it.  Document the special moments with lots of pictures!
OTHER WEDDING WEBSITE ANNOUNCEMENTS
In addition to documenting your engagement with stories and photos, you can use a website to communicate lots of other wedding announcements.
Some examples:
Introduce your wedding party.
Introduce your crew with fun candid photos and a few sentences about each wedding party member.
Post a calendar / timeline of events.  
This is particularly useful if you're having parties leading up to the wedding – maybe a welcome party for out of town guests, rehearsal, day-after brunch, etc. 
Specifically for the wedding day, you can list out the time of the ceremony, cocktail hour, dinner seating, etc so that everyone has an idea of exactly when things are happening.  Your guests will really appreciate knowing exactly what to expect on the wedding day.
Link to a hotels or accommodations for out-of-town guests.
Someone who doesn't live in your area may or may not be familiar with the best hotel to choose for price and location.  Airbnb.com and local hotel suggestions are really helpful to have posted for your out-of-town guests.
Share any miscellaneous "special announcements".  
You're having a luau-themed rehearsal dinner and want to encourage your guests to wear their favorite casual Hawaiian shirt.  This is perfect info to communicate via your wedding website!
Definitely share your wedding gift registry!
Your wedding website is the PERFECT place to post where you are registered for gifts. List the stores + websites, and include direct links for guests to click and shop, all from your website. 
Directions, meal options, etc.
List anything that may or may not have been included on your paper invitations.  For example, directions to your ceremony spot, directions to the reception venue, meal options. 
If you're looking to keep your invitations really simple and affordable, then your website is a perfect spot to communicate these details.  You'll save a ton of money on all the different enclosure cards for directions, meal cards, registry information, etc.
"FAQ" Section
I saved my favorite for last.  A "Frequently Asked Questions" section is the perfect place to communicate all those awkward questions you're going to field from your guests in the months before the wedding.  Here, I'll give you some examples:



THE TECHNICAL ASPECTS of a wedding website.
Not tech savvy?  Don't worry! 
There are tons of wedding website builders out there that make it SO easy.  You fill in the blanks, drag & drop – it's seriously dummy proof.  If you can book an airline flight online, or buy something on Amazon, I promise – you can create a wedding website.
Websites can range from totally free & basic, to paid custom features like choosing your own URL, auto scheduling email updates, etc. 
Is every guest at your wedding going to be receptive to / and or USE a wedding website for updates?

 
No.  They definitely are not.
Before you rely 100% on a website to communicate the most important details, think about people who are going to need a more personal touch.  Who are the people who don't necessarily use the internet in the same ways that you do?
These guests will require either a phone call or maybe a note in the mail.  You could make a calling tree and have your mom or aunts call elderly family members, or anyone who you know won't actually go on your website to get the information.
Your Wedding Website Questions
How do you feel about electronic wedding invitations & save the dates?

 
Paper invitations aren't important to us.  The process of picking them out & paying for postage feels like a waste of time and money.

 

Your thoughts?
Wedding e-vites – tacky or not?  Look, you're never gonna win the "dodge tacky" wedding game.  I can promise you this – someone will ALWAYS find something you do (or don't do) tacky.  So don't even bother worrying about what you *think* someone might find tacky.  Do what feels best to YOU.
Not sure if you're on board to take the plunge to electronic wedding invitations & save the dates?  At the very least you can manage your RSVP's online.  This cuts postage in half by eliminating the return envelope stamp.  Managing your RSVP's online via your wedding website can really streamline the process of keeping things organized.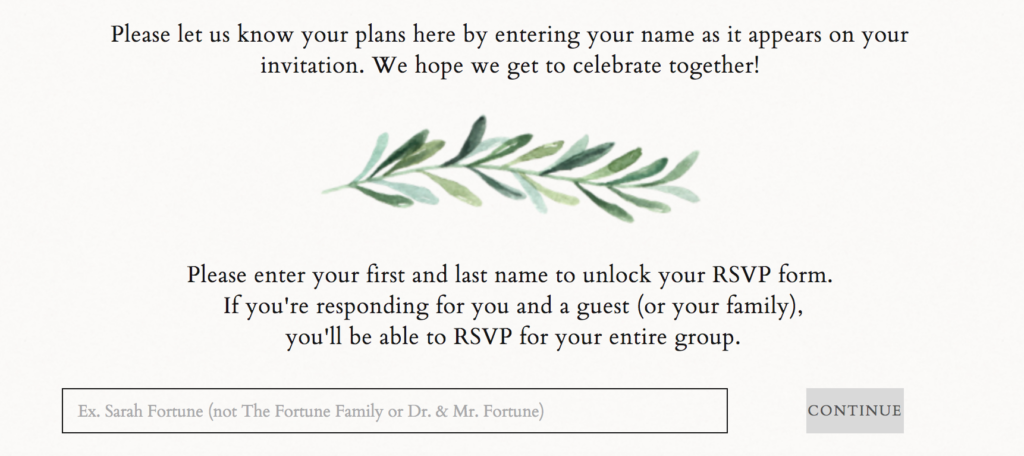 Is every guest at your wedding going to be receptive to and / or USE a wedding website for updates, and to submit their RSVP?

 
No, they definitely are not. So before you rely totally on a website to communicate the important details, think about people who are going to need a more personal touch.  I literally have family members who don't use the internet (seriously).  Think about the people in your life who don't necessarily use the internet in the same ways that you do.
Can we make our website private so that only guests can see it?
Yes.  Most website builders will have the option to protect your site with a password that you can give to your guests. 
What's the best way to communicate our website address?  On the actual invitation, or as a separate enclosure card?
Either is fine!  If your invitation or save the date feels a little crowded, a separate card within the envelope is fine.  It doesn't need to be fancy!  Print the website out a bunch of times on a template on your home printer, and just slip a separate piece of paper in.
What are some ideas for sharing our wedding website?  Unsure about posting it on social media!
Ask yourselves if you want non-invited guests to be able to access the wedding day details like time & place.  If you'd prefer to keep things among invited guests only, then I definitely don't recommend putting a link to your website on Facebook!
You can share by word of mouth, text message, or within your save the dates and invitations.
I hope today's show has been helpful, and cheers until next time!
xo Kara
Craving more Wedding Planning Podcast?
Get ready to discover an ALL NEW WAY to plan your dream wedding celebration …