… minus the expensive price tag.
7 years in the wedding industry has proven to me that:
Planning your wedding is REALLY FUN!
And also, overwhelming.
It's expensive.  It's time-consuming.
And there's waaaaayy too much crazy information out there that makes you doubt your common-sense judgement and second-guess your decisions!
I've helped guide thousands of couples through the challenges of the wedding planning process,
and 
I can help YOU further streamline + simplify your wedding plans!

I know that not everyone has the budget to hire a professional wedding planner OR the time to research the endless options out there.  That's why I created the Wedding Planning Podcast, and stashed THE BEST STUFF inside The Vault!
& gain unlimited access to:
– Hidden money-saving opportunities in EVERY STAGE OF WEDDING PLANNING that can be easily overlooked,
– Detailed episode transcrips that methodically uncover MORE MONEY & MORE TIME,
– Custom pdf checklists to ensure that you don't miss a single thing,
– An library of past Wedding Planning Podcast episodes, organized from beginning, middle & end of your engagement,
– The exclusive opportunity to submit YOUR wedding questions for future episodes of the Wedding Planning Podcast & live Q&A meetings!
All this for just $25!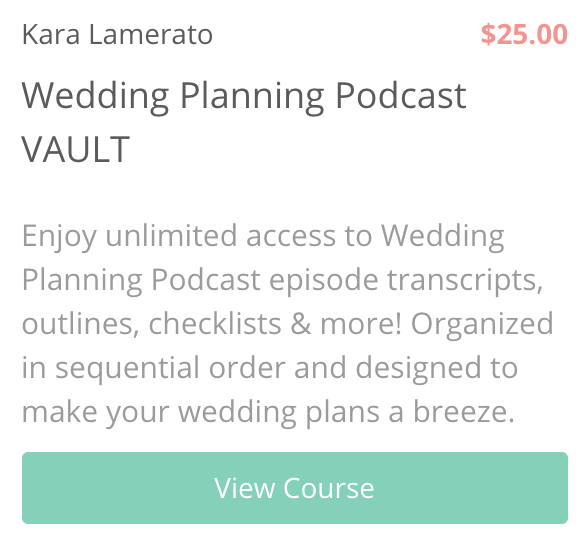 Take advantage of this priceless resource, and secure your access to the Wedding Planning Podcast Video Vault today!

Any questions for me about accessing the Wedding Planning Podcast Vault?  I'm here, please feel free to be in touch!
Thank you always for allowing me to be a part of your wedding planning journey!
Cheers, Kara