Welcome to the WEDDING PLANNING PODCAST,
where we say "YES" to a more joyful engagement season!
READY TO GET STARTED?
THOUSANDS OF ENGAGED COUPLES HAVE DISCOVERED A NEW WAY ... 
Here, we embrace who YOU are.

We prioritize what YOU value.

And ultimately, we design the wedding celebration of YOUR DREAMS - regardless of your budget, planning timeframe, or your planning experiences up to this point!
"I believe that every engaged couple deserves the expertise of a down-to-earth, honest, & professional wedding planner ."
- Kara Lamerato, Producer + Host of the Wedding Planning Podcast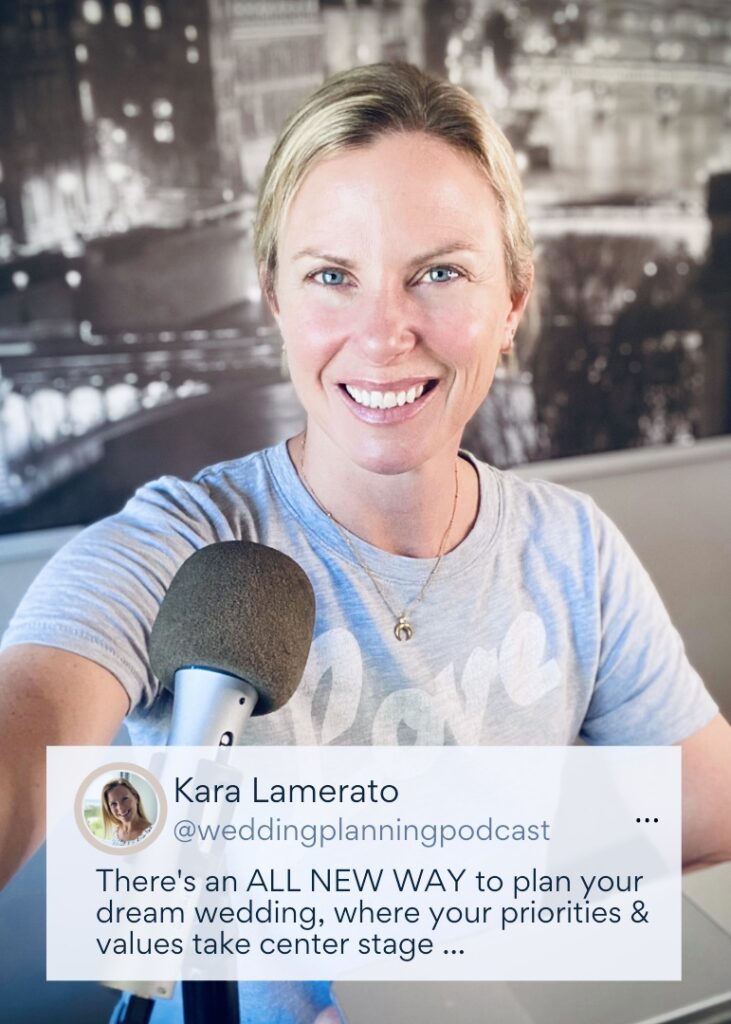 "Your presence in the wedding industry is a breath of fresh air!"
Past couples share exactly how The Wedding Planning Podcast will transform your wedding planning journey from OVERWHELM to EASE:
"I started off planning my wedding completely clueless and SO overwhelmed...while also trying to balance a job, my physical and mental health, relationships...you get the picture!  Being an "on the go" bride can be so frustrating ... You have turned my commute, any other travel time, and workouts over the past 6 months into something I actually look forward to!  I'm truly so thankful for you Kara - along with your podcast, your business, and the encouragement you provide to myself and SO many brides." - Susie C.
"I ABSOLUTELY LOVE YOUR PODCAST. It has simultaneously gotten me wedding obsessed, in an excited whirlwind to plan, and also much calmer and laid back about the process. It's a fun combo! I really appreciate all of your advice in such an accessible podcast." - Clare D
"Your presence in the wedding industry is a breath of fresh air!  I want to extend my thanks for your wealth of practical advice & suggestions for circumventing typical wedding industry standards.  I've never desired to have a cookie-cutter wedding, and your podcast has given me so much creative insight, AND has made me feel validated in wanting to have a unique + classy wedding that doesn't entirely follow the status quo." - Brittany N.
"I was looking for an inclusive wedding planning podcast with a host who supports my wedding as much as any other.  And one who is brilliant in all things weddings!!  That is my very long thank you, Kara.  You made a difference in my life." - Chris O.
"Kara, I just had to take a minute to thank you for what a true blessing your podcast & website was to us while planning our wedding. I used as many of your great tips as I possibly could, and our day was perfect and beautiful.  Your organization tips and thoughtful advice on the logistics were PRICELESS. Thank you, thank you, thank you!!!"  - Erika O
"Thank you so much, you made the wedding planning so much easier and not so overwhelming, and also helped me not completely get out of control with my budget.  I loved how accessible the short podcasts were, and in the end, it saved me TONS of money!" - Alyx
"Thank you so much for doing this podcast. Your information has been an INVALUABLE RESOURCE as I've been planning my wedding!" - Julie B
Welcome to The VAULT, a unique "wedding planner alternative" for couples who want to plan an outside-the-box, UNFORGETTABLE WEDDING CELEBRATION.  
GET 1-ON-1 CALLS included for the lifetime of your membership!