Welcome to the ULTIMATE guide to wedding cakes and desserts!  From everything to researching bakeries, booking cake tastings, unique dessert alternatives, and some budget-friendly cost saving tips, I've got answers to all of your questions in today's show.
WEDDING CAKE QUESTION #1
Do cake tastings cost money?  What's a range we can expect to spend?
Cake tastings are FUN, and if the bakery is doing it right?  Then they should be going all out to WOW you in this first impression!
You'll typically be able to choose multiple flavors and combos of filling, cake, and icing to build the exact flavor profile you want.  And keep in mind with a tiered cake, or combo tier / sheet cake, you'll be able to have more than one flavor to share with your guests – more on that a bit later in the show.
Now obviously there's a wide range of cake tasting prices that you can expect.  Depending on your area, I'd prepare for anywhere from free – $50.  
If you're investing upwards of a grand on a cake, then $50 for tasting a variety of samples seems pretty reasonable, right?
Like most things in wedding planning and life in general, there are some hidden money-saving tricks here.  I've been to many bridal fair / wedding fairs where bakeries are set up with free samples.  This would be a great way to potentially do multiple tastings in one day, from multiple bakeries, minus the tasting fee, and saving yourselves the time of scheduling multiple different events.  Win, win, win!
WEDDING CAKE QUESTION #2
POPULAR WEDDING CAKE FLAVORS / COMBOS?
The best flavor for your wedding cake is the one – or two, or three! – that YOU enjoy most! 
This is definitely an area where it's going to be impossible to please every single person at your reception, so just keep it simple and roll with what you like.  
Seasons may or may not come in to play for you – for example pumpkin, apple, spice, carrot for a fall or winter event, citrus like lemon or lime, or fruity mango, strawberries with white cake for a spring or summer wedding. 
Do you have to follow traditional seasonal flavor guidelines?  Absolutely not, but it can be a good starting point if you're completely undecided.
TLC rounded up a group of experts to share the most popular wedding cake flavor combos for 2023, and here's a complete "sampling" of their list.

WEDDING CAKE QUESTION #3
BEST WEDDING CAKE DECORATIONS / TOPPERS?
Take a trip to Pinterest, and you'll be busy for days looking at endlessly creative and gorgeous wedding cake and dessert inspiration.
SIMPLE WEDDING CAKE TOPPER
If you're aiming to take the most simple path, consider a tiered cake with a pretty topper.  Here's a link to cake toppers on Etsy that are customizable, simple, and super affordable.  I shouldn't be surprised that there are over 125,000 options to chose from, but I am …. 😂

DECORATE WITH FRESH FLOWERS
Another great option is a simple tiered cake decorated with fresh flowers – you can use leftover clippings from your bouquets or centerpieces.  You'll just need to coordinate between your florist and bakery to have the flower clippings delivered or passed along for placement.  Also, be aware of any "decorating" fees your baker will charge.  More on "hidden cake fees" coming up!
We used fresh flower clippings from our bouquets to decorate our wedding cake – simple, affordable, beautiful!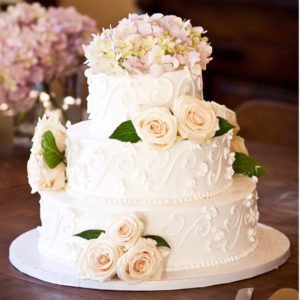 If you're doing your own flower arrangements and / or bouquets, you could also have the cake delivered naked, and designate someone to arrange the blooms / leaves on the tiers the day-of.  
EDIBLE SUGAR FLOWERS
OK and the last idea here, decorate with edible sugar flowers, and I'll direct you once again to thousands of beautiful options from independent business owners on Etsy:

And of course a cake topper, or flowers, or any extra embellishments are completely optional.  You can certainly just choose a beautiful cake design that's ready-to-go, straight from the bakery.
WEDDING CAKE QUESTION #4
WHAT HIDDEN COSTS SHOULD WE BE AWARE OF?
CAKE DELIVERY fee,

SERVICE FEES from the bakery,

GRATUITY for the bakery staff and delivery person,

DECORATING FEES to add your topper, fresh or sugar flowers,

CUTTING & SERVING FEE from your venue and / or caterer,

PRESERVATION FEE if you're looking to save the top layer to enjoy on your first anniversary (more on that in just a second)

CAKE TASTING

DESSERT BAR EXTRA ITEMS that you're wanting to include
To bring this point to life with some actual numbers:
If your actual cake is $700, then factor in roughly: $50 delivery, $50 tax, $50 tip, $50 decorating fee, and $100 cutting & serving fee. 
So your $700 cake is actually going to cost about $1000.  See how depressingly fast that all adds up?
If your total budget for cake is $700, then I'd be looking for a cake that actually costs about $500 to give yourselves room for all of those pesky little extra fees. 
This very simple, real life example is exactly how most couples wind up going over-budget on everything from cake to venue to food to dresses!!
WEDDING CAKE QUESTION #5
WHAT'S THE BEST WAY TO SAVE THE TOP LAYER TO ENJOY ON OUR FIRST ANNIVERSARY?
First, you'll need an airtight plastic container.  Here's a link to a very simple "cake saver" from Amazon.
Wrap the cake in a layer of plastic wrap, again with a layer of foil, and store inside the airtight container in your freezer. 
Follow these steps and your cake will be like brand new on your one year anniversary!
CRITICAL REMINDER:
Designate someone in charge of making sure the cake gets taken home from the venue!  It would be heartbreaking to have it accidentally thrown away, or cut & served on accident.
WEDDING CAKE ALTERNATIVES
In the second half of today's show we're going to shift the focus away from that beautiful multi-tiered wedding cake and talk about some cake alternatives and creative spins on desserts.  
These ideas can extend beyond just your reception itself, and are totally appropriate for a wedding or bridal shower, rehearsal dinner, or any other pre-wedding event where you want to offer your guests something sweet either after or maybe even in place of a main meal.  
Cake isn't our favorite and it's definitely not a top priority for either of us, but we do want to offer our guests the option – what's the best way to keep cake as simple & affordable as possible?
A popular money-saving trick with cake is to order a very simple cake for display, and then go for volume with sheet cakes that will be cut behind-the-scenes and served to your guests.  
If you're looking to literally keep this as cheap as possible, one of my favorite things on earth is sheet cake from Costco – white cake, white buttercream icing, creme filling.  It's absolutely to die for, and it's $20 for 48 servings.  
Of course there are a wide range of middle-ground options that don't involve Costco, but this is a hack that's definitely worth exploring if cake isn't a big priority to you.  
If you want to stick with a bakery, ask potential bakers to quote you for a simple display cake, and sheet cakes to make up for the rest of the servings.  
How many options should we offer on a dessert bar?
This is purely up to personal preference.  Visit Pinterest for some visual inspiration for display ideas, variety, etc. 
You could go as simple as cake & pies, or you could go all out with various cookies, candies, cupcakes, doughnuts.  Sky is the limit here in my humble opinion!
A dessert bar is a really fun opportunity to showcase your personal favorites, and that may include family recipes.  Reach out to siblings, aunts, cousins, grandparents.  If they are looking for a way to contribute or help out with your celebration, then baking a couple dozen cookies or that famous key lime pie is a meaningful way for them to help. 
If you can recruit a handful of loved ones to help you with a really fun variety of desserts … then you're off the hook paying a fancy bakery to do it for you!
What are some fun cake alternatives?  
Check out this great article on Brides.com for lots of creative ideas.
How can we recreate a traditional ice cream stand experience for our guests?
Serving ice cream is not an attainable "do it yourself" situation, you're going to need professional mobile freezer equipment to pull it off.
Consider hiring an ice cream truck to hand out frozen treats.  Not the same as your classic summer ice cream stand with slushies, shakes, and mixers, but still a really fun novelty. 
Look for an ice cream cookie sandwich vendor to be onsite scooping ice cream in your choice of cookies.  This style ice cream sandwich is super popular in my area, and was set up at a recent wedding I attended.  A huge hit!
Have a great week, and we'll meet again next week, same time, same place!
A special thank you to today's show sponsors: