This week on the Wedding Planning Podcast, we're going to sort out some misconceptions & frequently asked questions about Day of Coordinator vs. Wedding Planner.  
Our goal is to get really clear on the difference between the two roles.  Together let's determine whether or not you need to hire a professional Day of Coordinator or Wedding Planner to help you with your wedding plans!
Missed it?  LISTEN NOW!
What is a Day of Coordinator?
A Day of Coordinator is someone who you hire to help you with the wedding day logistics. 
Think of this person as your personal assistant on the wedding day.  THE event manager, the point person, the quarterback on the wedding day. 
You'll likely meet with a day-of coordinator just once or twice in the month leading up to the wedding.  During this meeting,  you'll finalize:
your wedding day timeline,

ceremony details,

vendor lists,

contact information,

and all of the nuances of your wedding day plans.

 
How much does a Day of Coordinator cost?
For a VERY GENERAL GUIDELINE, plan to invest anywhere from $500 – $1500 + for a Day of Coordinator.
OK, so then what's a Wedding Planner?
A wedding planner has a much more in-depth role than a Day of Coordinator.  A wedding planner can be full service.  They can also be hired to help with just some aspects of your wedding plans. 
So in other words, a wedding planner's role is much more extensive than a day-of coordinator.
A wedding planner will help with researching and hiring vendors, event design, party and equipment rentals, ongoing vendor management and follow up.  Your wedding planner (or a staff member) may also may function as your day-of coordinator / point person.
How much does a Wedding Planner Cost?
It's very difficult to give an accurate price range.  Pricing is dependent on your location, professional experience, demand, and the specific wedding that you're hiring for.  Expect to invest (a very wide range) $2,000 – $15,000+ for a full service wedding planner.
How do I know if I need to hire a Wedding Planner or a Day of Coordinator? 
Let's go over some specific questions to consider if you're on the fence about whether or not you need to work with a wedding planner, a day of coordinator, both, or neither.
Is hiring a wedding planning professional within your budget?
For a VERY general range, Day of Coordinators start around $500.  Full-or-partial service wedding planners will cost anywhere from $2,000 – $15,000 +.
This is the only question that some of us need answered to know that NO!  We will not be hiring a professional and need to go an alternate route.  Much more on alternative options to hiring a professional Day of Coordinator or Wedding Planner later in the show!
Does your venue include staff to coordinate set up and clean up on the wedding day?

 
Many all-inclusive venues come complete with an onsite coordinator.  If this applies to you, then you're probably all set in terms of day-of services.

*VERY IMPORTANT NOTE!*

 
If you're using a non-traditional or non-inclusive wedding venue that does NOT include any onsite help, you will definitely need to arrange for someone to be your point person.  This person will be in charge of the wide variety of details that need to be managed on the wedding day. 
Not being able to afford to hire someone does NOT mean that you can just sweep this role under the rug.  We'll just "see how it goes" or "play it by ear" DOES NOT FLY on your wedding day!
Ask yourself, how much free time do you have available for wedding plans?

 
By now you've probably realized that wedding planning can be really time & energy consuming.  If your jobs, family, or other commitments won't allow for much spare time and mental space, maybe a full service wedding planner to do more of the heavy lifting is right for you.  In other words, if you have more MONEY than TIME, investing in the right wedding planner could be a really smart move.

Do you WANT to be super involved in the wedding planning process?

 
I'm a wedding professional by trade, so sometimes I assume that OF COURSE everyone is super excited to dive in and get the wedding plans rolling!  This simply isn't the case.  You might very well be dreading juggling everything over the next few months.
Some couples are more hands-off and would prefer to have someone else manage the details and decisions.  That's perfectly fine!  If you have the budget, a full or partial service wedding planner to help bring your vision together is a great option for you. 
What if you don't want to be super involved, AND you don't have the budget to hire a full service planner to organize all the details?  Not to worry.  Enlisting help from your friends & family members who DO want to be really involved is a great option.
Make a detailed list of everything you need help with, and be specific about delegating tasks to your loved ones who are willing to help. 
A reminder – I literally designed the Wedding Planning Podcast to function as an audio, full service Wedding Planner!  Please feel free to share the Wedding Planning Podcast & website with your friends and family who are helping you with your wedding plans.  
Even though I can't pick up the phone and book things for you, and I can't be there on your wedding day managing all the day-of details, you'll still find all the tools you need to plan your dream wedding right here.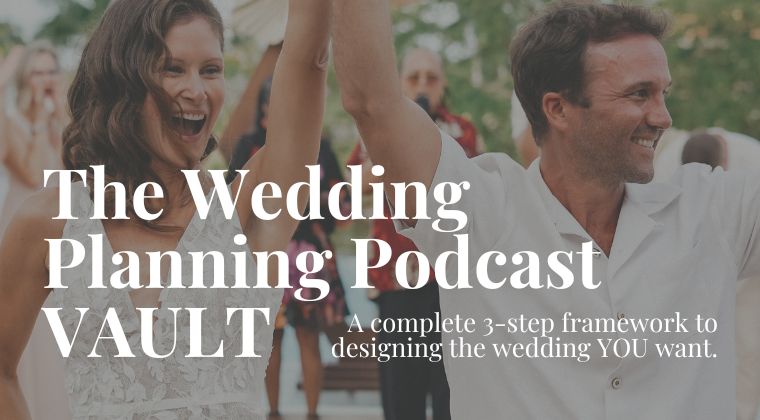 More of your DAY OF COORDINATOR and WEDDING PLANNER Questions …
Can my BFF be my Maid of Honor AND Day of Coordinator? 
I don't recommend having your closest friends or family take on day-of-coordinator responsibilities.  I'm not saying it absolutely can't be done – but for maximum enjoyment and minimum stress, I really don't recommend it.
There's a LOT going on on the wedding day that needs to be actively managed.  In most wedding situations, it would be impossible to effectively stay on top of everything, AND enjoy the wedding as a guest (much less Maid of Honor).
To wrap that point up, your day-of point person shouldn't be your best friend or a bridesmaid.  Let's go ahead & extend that ban to your closest family as well.
Well, I can't afford to hire a Day of Coordinator.  What are some other options?
Use your BFF's expertise to your advantage … just not on the wedding day.
She can whip up a wedding day timeline with her eyes closed.  She has dozens of client checklists on ALL THE THINGS that need to be tended to on the day of the wedding.  By all means, have her help you in the months and weeks leading up to your big day – she is a WONDERFUL resource!
You'll just need to find someone else to actually be The Boss on the wedding day.  Which leads perfectly into our next point!
Think of trusted friends, neighbors, acquaintances, or coworkers.

 
Do you know someone with project management experience?  Someone at work in your marketing department who is in charge of events? 
We had wedding day help from the events coordinator at my husband's school.  She did a PHENOMENAL job managing our wedding day, for literally a fraction of what a professional DOC would have charged.  
I bet you know someone like this, or have a friend who knows someone.  Don't be shy, ask around!  Post on Facebook:  "Hey friends!  We're looking for someone to quarterback on our wedding day.  Anyone have event management experience who is available to help on January 15th?"
Another viable option?  Hire someone in your area from craigslist or a website like taskrabbit.com. 
Maybe you've heard the term "gig economy"?  We're living in a gig economy where it's totally normal for people to drive their cars around like taxis and make grocery deliveries in their spare time to earn extra cash. 
I jumped on taskrabbit.com to see what the options are, and there's an entire section dedicated to Event Staffing.  Another website you could try is fiverr.com .
In most of our communities, I'd be willing to bet there are totally competent people who are eager and willing to work for $15 – $20 an hour.  That's a nice pay day for doing simple event management tasks like directing people where to park, serving appetizers, or staying on top of trash and restroom management. 
The bottom line, and the very most important point of our entire conversation?
Whether you hire a professional day of-coordinator, ask for a favor from a neighbor or acquaintance, or hire a complete stranger through a website like craigslist or task rabbit, it's CRITICAL that you assign SOMEONE to be your wedding day point-person. 
At the very least, you'll need to:
Manage your vendors,

Set up and take down decorations,

Direct guests & the wedding party,

Patrol trash & restrooms, etc.
You certainly don't want to be in charge of ANY of these things on your wedding day.  Designating a point person is critical for an organized and enjoyable wedding day.
Day of Coordinator advice / things I may not think of?

 

My 1st meeting is coming up soon!
Your coordinator will have their own process for collecting vendor contracts, contact information, checklists, and creating the wedding day flow of events. 
Make sure you ask exactly what (if any) additional information they will need from you, when they will need it, and the best way to supply it. 
I'd also suggest you give your wedding day timeline some thought before the meeting. 
Do you want to do a "first look" before the ceremony?  Schedule in alone time with your new spouse sometime before the reception?  These little nuances will impact the timing of things, and it's important that you communicate those to your coordinator so they can be included in the master timeline. 
I've interviewed a couple of local wedding planners and unfortunately it doesn't look like this is going to be something that's within our budget.

 

Help!
And closely related to this question,
Do we really need to hire a wedding planner?

 

I've had close friends do it with and without a professional planner and I'm on the fence about spending $1000 – $1500.
If I thought you HAD to hire a wedding planner, we wouldn't be here!  I literally created the Wedding Planning Podcast to coach you through planning your own wedding.  I definitely don't think anyone "NEEDS" to hire a dedicated wedding planner.
Now, with that said, let's get specific about what you really need help with. 
Maybe it's researching and selecting vendors.  Or maybe it's making all the little decisions about colors and favors that's really stressing you out.  In either case, get help from your loved ones! 
Your friends and family know you best.  Sit down and make a list of what you really want help with, and assign those items to specific people.  In most cases, you'll be met with a tribe of people who love you and are more than happy to help.
Maybe you're just looking for someone to help out on the wedding day.  You need a point-person, someone to direct your vendors, answer guest questions, collect gifts and personal items, and put up decorations.  If you can't afford to hire a Day of Coordinator, I'd highly recommend:
Thinking about friends or acquaintances who would donate their time as a gift to you, or

Looking for some local folks willing to do hourly work through a website like craigslist, fiverr, or taskrabbit, just to name a few. 
I'm going to leave you with a little cliffhanger! 
Here's a sneak peek into next week's show!  We're going to be reviewing situations when trying to save money on your wedding can backfire.  
My fiancé and I are thinking about trying to throw a more casual party and save some money, but we're not sure we can pull it off!
We're trying to decide between two venues. The first one is our favorite but it's essentially just an empty space.  We would have to figure out a coordinator, caterer, bartenders, the bar itself, set-up, tear-down, clean up, etc.
The second venue we really like, and it comes with everything.
The empty space venue has a fee of $7,000 and then we do the rest. We were thinking of getting a cheap taco truck and having a more casual party.  But we both work full time and don't want to do a TON of work when it comes to planning the wedding.
Plus we really have no idea what we're doing, and we certainly don't want to have to lift a finger on the day of!
Two big questions:
If we go with the empty space venue, do you think we need to hire a Wedding Planner, a Day of Coordinator, or both?
If we go with the empty space venue, do you think we could actually save money?  Or do you think it will end up being the same price (or maybe even more), but a lot more work?
The answer to question #1 …
I hope today's show has given you the tools to decide if you want to invest in a wedding planner!  I'd recommend doing some research in your area to learn more about the types of services available.
At the very least, you know that you'll definitely need help on the day of the wedding.  Whether it's a professional Day of Coordinator, someone you hire hourly, or time donations from friends, neighbors, and/or acquaintances is up to you.
We're going to pick up next week's show with the second big question – do you think we could actually save money, or do you think it will end up being the same price or maybe even more but a lot more work? 
Coming up next week, I'll also be sharing some common wedding planning traps where trying to save money can totally backfire and end up costing you much more in the long run.  YIKES!
Thank you so much for being here with me today, and thank you for your support of the Wedding Planning Podcast!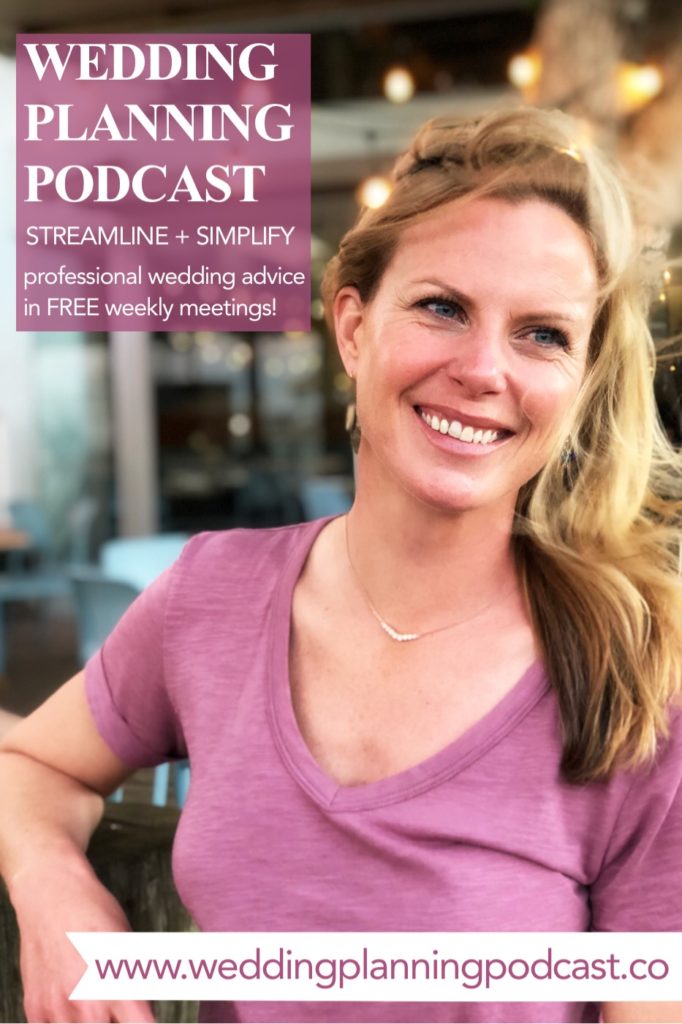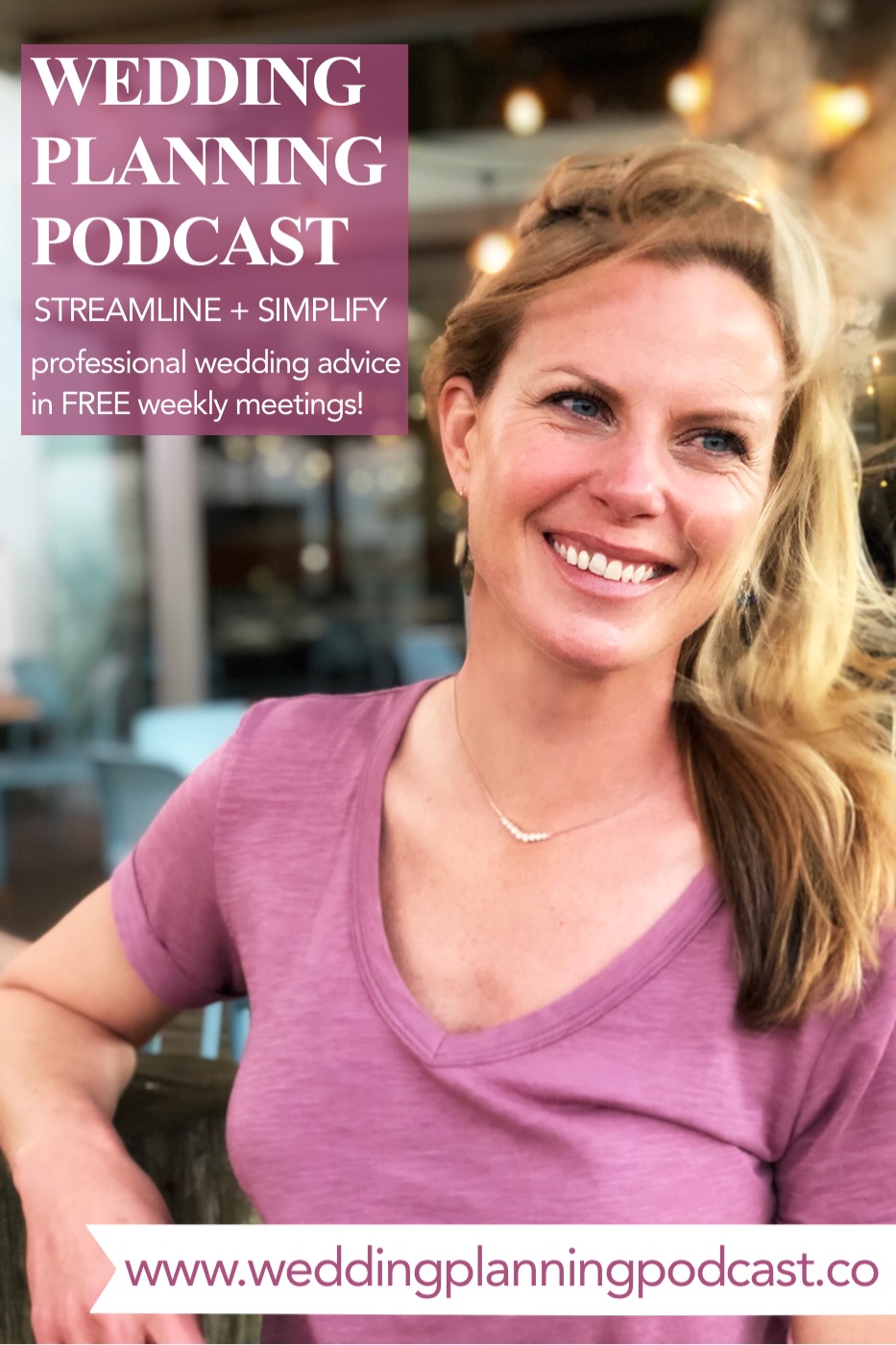 Behind-the-scenes …
When I got married, I thought you had to have a wedding planner.  I laugh looking back.  In my mind it was literally a wedding law that to plan anything, you HAD to have a wedding planner. 
I couldn't even pick up the phone and call caterers for information and quotes, because you had to have your wedding planner do that.  So silly.  Things have come a long way, LOL!
And not only silly, but a professional planner was completely out of our budget, and, as it turns out, totally unnecessary. 
I wasted a lot of time researching and interviewing planners before I realized that A.) I didn't HAVE to hire anyone, and B.) John and I had all the tools we needed to plan OUR perfect wedding day.
And side note, shocker – obviously, NONE of the wedding planners I interviewed ever mentioned to me, hey by the way, did you know that you could actually just do this on your own?  Thankfully I came around to that, but it took lots of wasted effort and stress to get there.
So I'll tell you now – Hey, by the way, did you know that you could actually just do this on your own?
Flash forward to today, and this podcast.  I literally created the Wedding Planning Podcast so that any engaged couple could tune in and use the episodes and the tools we review in the weekly shows to plan their own wedding.  No professional or pricey wedding planner required. 
So spoiler alert before we even dive in – I definitely DO NOT think you have to spend thousands of dollars to hire a professional wedding planner! 
I also know that there are countless wonderful wedding planning professionals out there, and for some couples it's a really smart investment … we'll get into that much more in today's show.  Cheers to you 😉