"We Ditched the Traditions & Made Our Wedding Truly Personal" – Emma, February 2022 Bride
This week on the Wedding Planning Podcast, meet special guest Emma (& Drew) who's here to share the highlights, unique elements, and planning challenges from their beautiful wedding celebration at Hilton Lake Las Vegas in February 2022.  
"We Ditched the Wedding Traditions" | Planning & Wedding Day Recap w/ Emma, Hilton Lake Las Vegas, episode dated 9.21.22
In this special episode, you'll hear lots more from Emma on:
The pros of having NO wedding party

Celebrating over a 3-day weekend in their hometown

The endless benefits of a very chill wedding day / intentionally left lots of open time & space to relax

Their "First Look" – and favorite part of the day!

"Last Dance" w/ just the two of us after the room has been cleared

Mini after-party at hotel lobby bar,

Keeping it early & chill – wrapped everything up by 9:30 pm

The challenges of setting a wedding budget and knowing where the starting point is

Trying on 50+ dresses before finding "The One"

And so much more!
For a complete written recap and to see their absolutely gorgeous wedding photos, here's a complete article that features Emma and Drew's incredible wedding celebration.
And to wrap up this week, I would LOVE to hear from you!  Whether it's about a planning challenge or question you're facing, a post-wedding day recap that you'd like to share, or simply requests for upcoming show topics, you can send in a voicemail to the show by visiting weddingplanningpodcast.co/contact
In your message, please be sure to leave your name and email address so we can reach you for follow up.  I would love to share more stories like Emma's, but I need your participation, so please make it a priority to be in touch!
A special thank you to this week's show sponsors:
Get professional help planning your dream honeymoon when you email [email protected] . Don't forget to mention the Wedding Planning Podcast for $50 off your honeymoon OR $200 off your destination wedding!

This week's show is just the beginning of dozens of strategic recorded meetings that walk you through an ALL NEW WAY to plan your dream wedding.  Sign up for a totally free 3-day trial of my revolutionary digital wedding planning package by visiting www.wedpodcast.com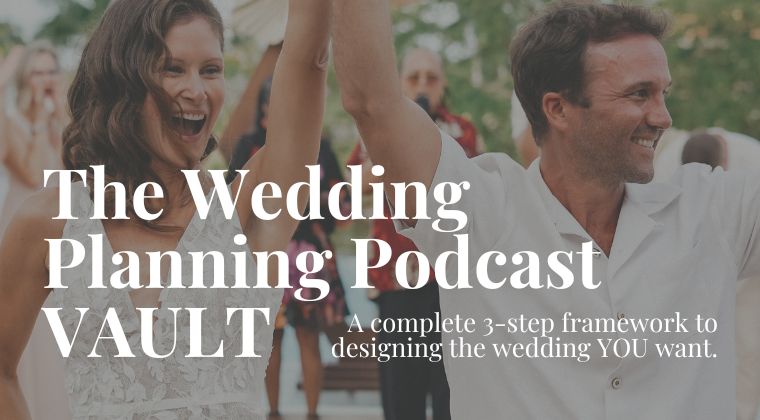 Welcome to The VAULT, a unique subscription-based planning tool for couples who are dreaming of an UNFORGETTABLE WEDDING CELEBRATION …
Minus the crushing stress, expense, and overwhelm felt by so many engaged couples. 
GET 1-ON-1 CALLS included for the lifetime of your membership!