Destination wedding planning calls for a very patient and organized approach.  Today I answer some excellent listener questions about planning the destination wedding of your dreams.  Listen now:
This episode of the Wedding Planning Podcast has been archived, and is currently only available to members of The VAULT.
Click the audio player below to learn more about gaining unlimited access to archived episodes of the Wedding Planning Podcast:
Today's show came about from a great listener question about planning her destination wedding:
Hi Kara, I'm recently engaged and my fiancé and I want to plan a small destination wedding at an all-inclusive resort in the Riviera Maya area of Mexico.  I'm having a hard time finding solid advice on how to get started with the planning. 
I have so many questions and am hoping you can point me in the right direction, so we can start planning our dream wedding!
How do we select a destination wedding resort without seeing it in person?

 

 
First off, selecting a resort without seeing it in person is really tricky.  This definitely adds a layer of difficulty in the planning process.  My best advice here is to do a crazy amount of research into past weddings that have been hosted at the resort.  Start with social media, internet searches, and of course asking the venue to share some detailed testimonials and photos of past couples who have gotten married there.
Is it acceptable to contact various resorts and ask for additional photos to aid in our decision?
Absolutely, as many photos as they can provide!  Be in touch directly with wedding photographers who have shot previous weddings there, and ask if they can share some of those photos with you.
Photos, reviews & testimonials from past couples who have been married at the resort are going to be your only way to "see" exactly what you're going to get.
A resort that specializes in or advertises itself as a destination wedding venue will be well prepared to share a wealth of information with you.  In today's world of social media and online travel sites where users can add extensive reviews and ratings, you should encounter a lot of transparency when doing this type of research. 
Should we work with a destination wedding planner, or work directly with the resort's onsite coordinator? 
This is going to depend heavily on having lots of conversations and going with your instinct.  If you can find a resort that checks out with regards to photos and reviews, and you have a few conversations with the weddings and events manager, AND you feel really comfortable and confident with those interactions and conversations, then I think it would be easiest to use the venue's onsite coordinator. 
Let me pause here and say, I could also see a situation where you kind of work backwards – instead of starting with the question of "what resort should we choose?" another way to approach your planning could be "what wedding planner in Riviera Maya should we use?"  
Then, after you have chosen a planner who you totally trust and get along with really well, you could ask the planner to recommend their favorite venues. 
Should we enlist the help of a travel agent?
I think offering your guests the option to use a travel agent is a wonderful idea.  This way, if someone doesn't want to do the independent research and booking, they would have the option of calling a specific agency to handle all of those details.  I would suggest calling a couple of travel agencies to get an idea of how they would handle a group booking situation, what types of commissions they charge, etc.
For those guests who are very travel savvy and can easily book their own travel, I would make that an option as well.  If people have flexible travel times, booking on their own could end up being less expensive than booking through an agent.  Either way, I think it's nice to give you guests the option.
With regards to destination wedding packages, can we request some customization?
This will depend on the resort, and should definitely be one of your top questions as you research potentials venues.  I would say that yes, there should always be an option to select some customization, and again, I think this is a top question you should ask your prospective resorts.  The degree of flexibility may depend on the location.
 Do you have any other advice or tips for planning a Mexico destination wedding?
Yes!  Quick tip, be sure in your "Save the Date" announcement to indicate if an international passport will be required for travel.   Obtaining a passport can be a somewhat lengthy process that becomes really stressful and costly if pushed back to the last minute.  This way, guests who may not be familiar with international travel have plenty of time to apply for a passport.
I found an amazing destination wedding planning checklist that I added on Pinterest, in addition to some other gems that I think will be very useful to you as you plan for a wedding away from home!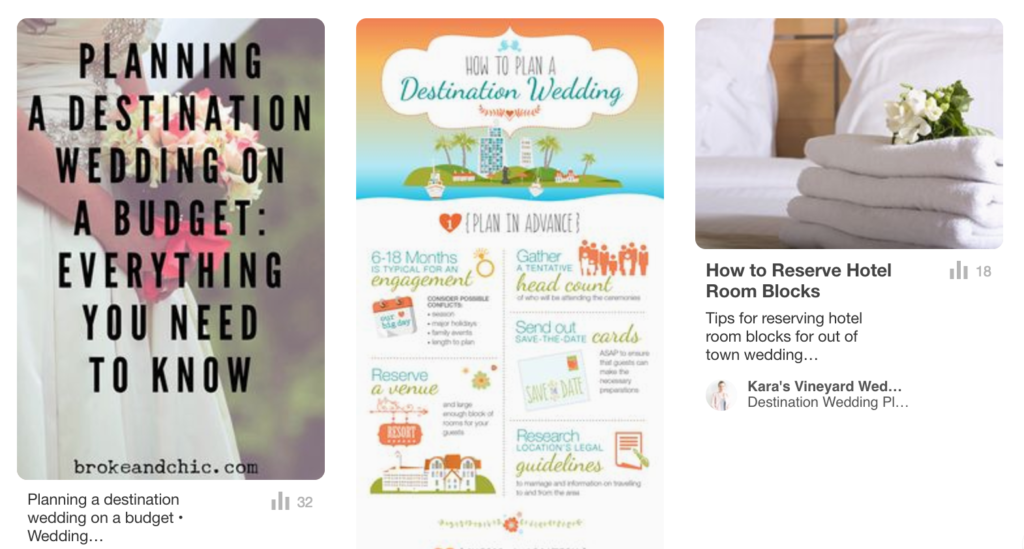 I hope you found today's episode helpful if you are planning a destination wedding, OR, if you're in the early stages of planning and considering a destination wedding! 
Wedding Industry Secrets, UNLOCKED.
Enter your email address below & I'll send you 3 BONUS audio shows of the Wedding Planning Podcast!
Each bonus episode includes valuable insight into the secrets that the wedding industry is hiding from you ... trust me, you don't want to miss it.