Please, save yourself the needless anxiety & avoid these TEN wedding planning blind spots at all costs!
Over the past 4 years of producing the Wedding Planning Podcast, one of my favorite pieces of feedback is some variation of,  "WOW, I never would have even thought of that!"
I LOVE sharing wedding planning ideas and strategies that go beyond what you might find if you simply google something, or browse through a quick article on a wedding website.
Don't get me wrong, we cover the basics too – but I LOVE digging deeper.  I love helping you find the solutions and options that aren't quite so obvious, and that might offer a really creative way to:
Put a unique spin on your day,
Make your guests' experience that much more incredible,
Or save you a ton of money by simply making a little adjustment or swap.
Today we're going to cover TEN wedding planning "blind spots".
These are all areas that past engaged couples have pointed out as things they wouldn't necessarily have thought about during their planning, but that became clear after listening to an episode of the Wedding Planning Podcast.
And sadly, in some cases, they saw the light after their actual wedding was over and done with and it was too late.
If you're in the early stages of planning, let's catch these things NOW so that you don't find yourself a year or two from now saying, if only we knew then …
Some of the tips from today's show are very minor, simple pieces of advice while others are a pretty big deal.
Explore the ALL NEW WAY to plan your dream wedding inside an exclusive FREE 3-day trial when you visit www.wedpodcast.com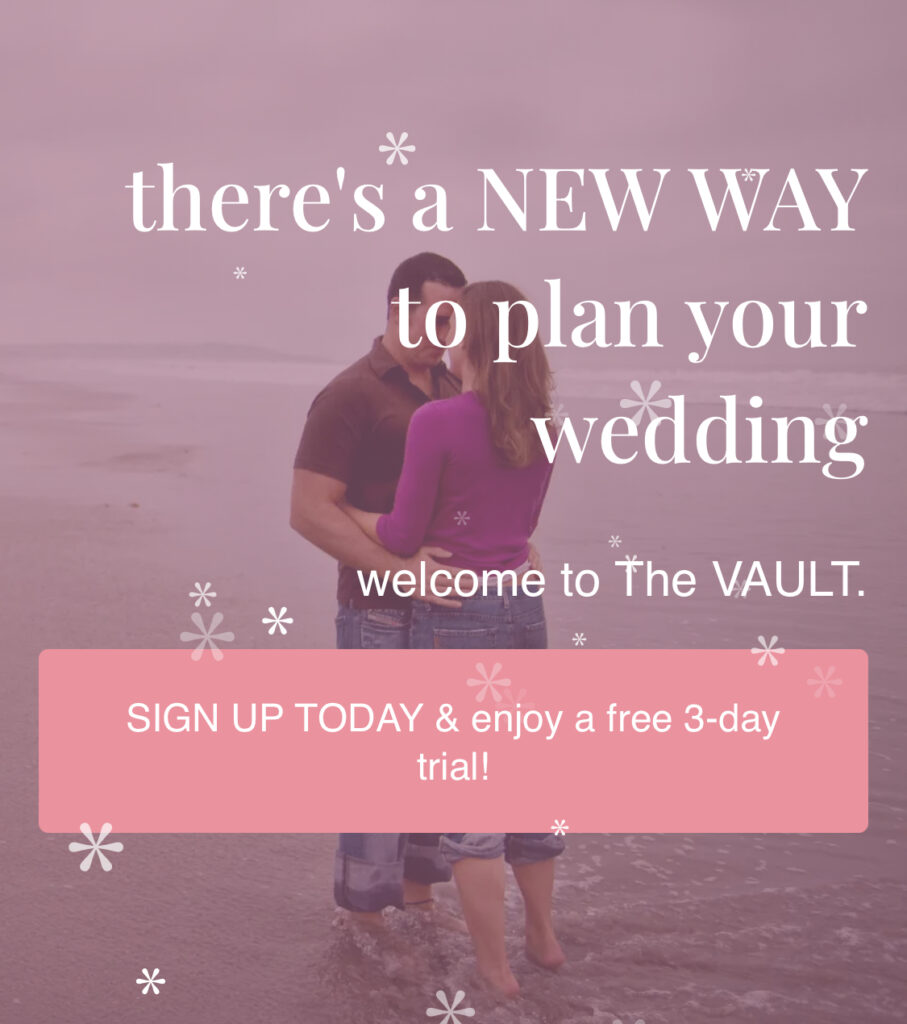 WEDDING BLIND SPOT #1 | Choosing a Comfortable Wedding Dress 
Ideally you'll start shopping for your wedding dress anytime between about 12-9 months before the wedding, making this one of the earlier-stage planning items.  I can't emphasize enough how important it is to choose a dress that you feel comfortable in!
Now obviously it's not going to be the equivalent of wearing your comfy sweatpants and laying on the couch watching Netflix with your sweetie.  But please, prioritize something that you can move around in freely, and not be constantly fidgeting with.  Please trust me – an ill-fitting or uncomfortable dress will make you exhausted and miserable halfway through your reception.
Keep in mind that your wedding dress will weigh anywhere from 5 – 10 pounds.  Imagine going through your entire day carrying two 5 lb dumbbells!
The simple act of wearing your dress can zap your energy.  Nothing is worse than feeling uncomfortable on your wedding day because you choose a dress that's impossible to sit down in, rubs under your arms, or is so big and heavy that you simply can't move around freely.
So to wrap up our first point – when you're trying on dresses, PLEASE keep a reasonable degree of comfort top of mind when making your final decision!

Yes! Please send my FREE Engagement Starter Kit!
Includes 3 BONUS SHOWS delivered via email that outline exactly what to do in the very first steps of your wedding planning journey!

WEDDING BLIND SPOT #2 | Last Minute To-Do's 
Our next potential wedding "blind spot" is the trap of getting caught with a ton of last minute to-do items in the weeks and days leading up to your wedding.  This causes so much unnecessary stress and panic in couples, and the last thing you want is to go into your wedding day feeling exhausted and over it because you've been stretched too thin in the weeks leading up to the big day.
The GOOD NEWS is that it doesn't have to be that way!  I'm not going to go into a ton of specifics today, because there's a full show dedicated to prioritizing, managing, and delegating the last-minute tasks in the final month, weeks, and days before your big day.
You can find the show titled "Last Minute Wedding Details" within my digital wedding planning package, The VAULT
This is a wonderful show to revisit, especially for my friends who have weddings coming up later this spring. Getting married later this year?  Definitely put this one on your list to listen to in the 2-3 months leading up to your wedding day.
WEDDING BLIND SPOT #3 | Insurance, Permits & Licensing 
Here's a scary sounding scenario – days before the wedding you find out that you need an insurance certificate provided to your venue for $1,000,000 coverage against liability for alcohol service.
Panic attack?  YES.  This would definitely be cause for a full-blown freak out!  That is, if you didn't know that securing wedding insurance and liability coverage for your wedding is actually pretty easy.
For a full show that gives you the scoop on everything you need to know about insurance, permits, and licensing for your wedding day, click here.
WEDDING BLIND SPOT #4 | Parking & Transportation
If you're early in the stages of researching wedding venues, parking and transportation are two things to keep in mind as you narrow down your options and make a final decision.
With the advent of ride sharing services like Lyft and Uber, getting around after a few cocktails is easier than ever.  The thing is this.  If you're eying a remote, rustic mountain resort in the middle of nowhere for the reception, and your guests are all staying in a neighboring town 50 miles away?  I can't confidently say that you're going to have a swarm of Uber drivers waiting to shuttle everyone home at midnight.
A bride named Sarah and her now-husband ran into quite a dilemma when having to book shuttle service for their guests at the last minute.  They assumed the hotel would offer transportation from the reception back to the hotel property for their guests.  $1500 dollars later, not to mention a TON of last minute stress, the entire situation could have been avoided had they considered transportation when booking their venue and hotel room block for their guests.
WEDDING BLIND SPOT #5 | Guest Accommodations
Which leads seamlessly into our next item, hotel room blocks, and more generally speaking, guest accommodations.
Reserving a hotel room block is a pretty straightforward process that takes a bit of research and just a few phone calls.  (*See a detailed episode on reserving hotel room blocks within the "WEDDING LOGISTICS" Section of the VAULT)
It's a really nice and convenient gesture to provide your out-of-town guests a recommendation for where to stay for the wedding.  Your chosen hotel or hotels can easily be displayed on your wedding website for one-click access.
This ties back into choosing your venue, which we've touched on a couple of times today.  (Side note, choosing your venue is a HUGE step in wedding planning, and we'll do a deep dive into venue shopping in the coming weeks!) Where your out-of-town guests will stay is a big deciding factor in where you host the wedding.
Dreaming of a seaside wedding at your favorite small town, quaint resort in July?  Consider the availability and the cost of lodging.  If 200 out-of-town guests have to pay thousands of dollars for hotel rooms, or end up staying in neighboring towns hours away because there literally aren't any rooms available?  That's going to put a dark cloud of inconvenience over the festivities.
WEDDING BLIND SPOT #6 | Managing Conflicts & Issues with Family, Friends & Your Fiance
The title of this heading pretty much says it all – visit the full length episode on "Challenging Family Situations" within The VAULT.
WEDDING BLIND SPOT #7 | Unexpected Fees
"We tried to save money by using the florals from the ceremony to also decorate the reception. When we went to pay our final invoice we were charged an additional $400 moving fee, to move the florals from the ceremony to the reception. They only had to move from the beach to the beach restaurant 50 feet away. This was a big unexpected shocker!"
BUILD A CUSHION INTO YOUR BUDGET for unexpected fees and expenses!  Much more detailed information on managing your wedding budget and sidestepping surprise costs can be found within my digital wedding planning package, The VAULT.
WEDDING BLIND SPOT #8 | Tipping your Vendors
This is very closely tied to the theme of unexpected expenses.  It's critically important to plan for gratuities as you start to formulate your wedding budget.
It's also important to understand that you do NOT have to robotically hand out a 20% tip to each and every single wedding vendor you hire!  Much more in an ultimate guide to "Tipping Your Wedding Vendors" show that you can find here.
WEDDING BLIND SPOT #9 | Catering
This is a really popular topic where I hear a ton of "whoa, we never even would have thought of that!!!!"  Now, don't get me wrong – a ton of planning, organizing, hands-on / do-it-yourself work on your wedding IS NOT FOR EVERYONE.  Many of us have the budget, and are more than happy to pay professionals to execute an unforgettable, gorgeous wedding day.
However, if you're up for a little challenge, you have the time, and you're all about saving a few hundred or even thousands of dollars?  Then you should definitely TUNE IN to these two episodes on doing your own appetizers and supplying your own beer wine and liquor for a "DIY" style bar at the reception.
No, you don't have to hire a professional catering team, and you definitely don't have to pay $15 / drink to host a top-shelf open bar for your guests – IF you do the research, choose the right venue, and are game for a little bit of extra work.
My now-husband John and I planned and shopped for our own wedding day apps, main meal, and top shelf bar … and it was a TON of fun.  This move alone literally saved us about $10,000 over what we would have paid a professional catering team.
Is "DIY catering" for everyone?  Definitely not.  But if you're at all curious, I would highly recommend exploring the extensive "Do it Yourself" catering roadmap within The VAULT. 
WEDDING BLIND SPOT #10 | Kiss These Wedding Etiquette Rules Goodbye! 
Our last "wedding blind spot" for today is really focused on saving your sanity and approaching your wedding plans with a sense of clarity and confidence about making the decisions that are right for you and your partner.
Are you feeling like you're drowning in wedding etiquette and rules?  Everyone has an opinion on invitation wording, cash bars, inviting kids, and what traditions absolutely SHOULD be included in the wedding day.
In a show from 9.29.21 titled "Etiquette Rules You Can Kiss Goodbye!", we take a step back, and reframe things.
I appreciate that you're listening from all different backgrounds, regions, & cultures.  What is the norm in NYC may be entirely opposite in Charleston, and unheard of in Los Angeles.
Part of the inspiration for this concept of ditching etiquette and what you think you "should" do is my husband and I coming from two very different parts of the country, and our separate expectations of what should & shouldn't happen at a wedding.
Where he's from, it's totally normal to spend tens of thousands of dollars on a huge wedding for 300 of your closest family & friends.  The brides family pays.  It's unheard of to have a cash bar, to not ride in a limo, and to not invite kids.
Where I'm from, pretty much everything opposite of that.  I have a really small family, and celebrating your reception in the basement of the church with no booze is pretty normal.
Where things get tricky is when our expectations of what a wedding "should" look like conflict with our budget, our styles, and our personalities.
But no matter where you're from, I'm a firm believer in your wedding day being an expression and celebration of you & your partner.  At the end of the day, you're making a really special commitment to one another, and looking to celebrate the occasion with your loved ones.  That's it!
With that said, let's look at these "wedding etiquette rules" with a fresh set of eyes.  Forget what "everyone else is doing," and open up the possibilities beyond that.
Please know, believe, and trust that you truly have the support from me to ditch what everyone else is doing, and craft your day, your way.  No this doesn't mean being blatantly rude or disagreeable to your family, or sneaking behind your partner to sabotage something that you know they really want.  You'll need to continuously deploy common sense, compromise and understanding throughout your engagement.  But there are TONS of commonly held beliefs that can be reinvented by YOU, to make your day a perfect expression of your love and relationship.
THAT'S A WRAP!
I know that you have literally millions of options in terms of wedding websites, blogs, magazines, and other wedding podcasts – thank you from my whole heart for spending this time with me, and for including me in your wedding planning journey.
It's a huge honor, and a huge responsibility that I hold with endless respect and gratitude – thank you.  I'll meet you here again next week, same time, same place!
Getting started with your wedding plans and not sure where to start?  Claim your FREE Engagement Starter Kit here: