An detailed, organized & thorough wedding day timeline can literally make or break your wedding day.  In today's episode of the Wedding Planning Podcast, we're reviewing 6 key wedding day of timeline tips to keep things organized and flowing smoothly.
You can listen to the audio version here, OR scroll down for a simple written recap (including sample timeline templates!)
View some of my favorite sample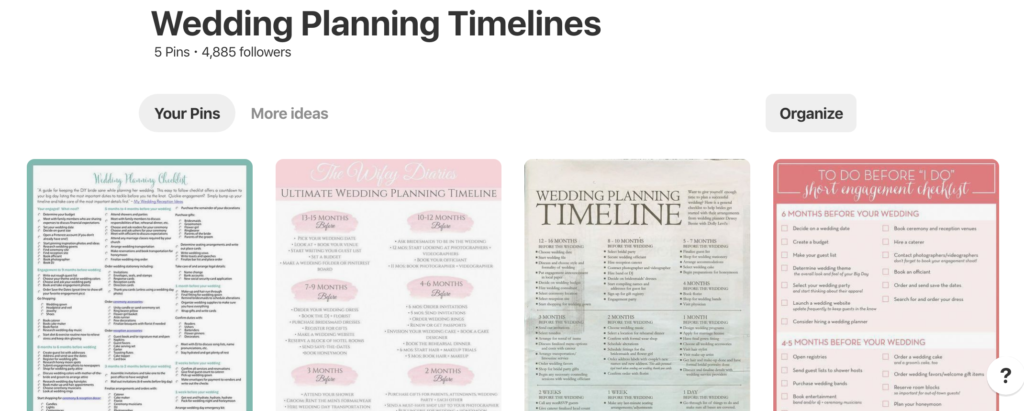 6 Wedding Day Timeline Tips
My 6 favorite wedding day timeline tips for keeping wedding day events flowing smoothly & stress-free:
Wedding Day Timeline Tip #1:  Start Early
An early morning wake up will start the day right, leaving as much time as possible to primp, prep, and enjoy your day.  This means you gotta keep it in check the night before at your rehearsal dinner!  Try to get a a good night's sleep so you can be up and ready on wedding day.
Wedding Day Timeline Tip #2:  Be Selective
Be selective about what you include on your wedding day schedule.  Examples of things that should NOT be on the wedding day timeline are finishing up DIY projects, or getting your nails done.  If it can be done on a day leading up to the wedding, pretty please don't wait!
Wedding Day Timeline Tip #3:  Include "Buffers"
This simply means allow more time than you think you will need.  Appointments will run late, there will be traffic, etc.  Leaving pockets of time around your timeline entries will ensure things don't get backed up.
Wedding Day Timeline Tip #4:  Plan for Simple Meals & Snacks
Have a simple meal plan set for the entire wedding day timeline.  Enlist help from your wedding party to have healthy food all set & ready to go so you don't find yourselves frantically running around to pick up takeout, or waiting for delivery.
Wedding Day Timeline Tip #5:  Schedule in YOU Time
Also consider blocking off some time for YOU to be alone, relaxing, and taking in the day.  Maybe this is an extra long morning shower.  Another idea I love is taking a half an hour to write a letter to your partner, jotting down your thoughts and feelings, so that you will always have a "journal" type record of the day.  Taking some quiet time for yourself will allow you to relax, take some deep breaths, and really savor the day.
BONUS Wedding Day Timeline Tip #6:   Keep it Local
For those of you who are early in the planning stage, consider using the same location for ceremony & reception.  Bonus points if there are onsite rooms where you can get dressed.  Traffic and travel time can really eat up your wedding day timeline, and by keeping everything in the same location you can avoid getting stuck in a car for half the day.
Wedding Industry Secrets, UNLOCKED.
Enter your email address below & I'll send you 3 BONUS audio shows of the Wedding Planning Podcast!
Each bonus episode includes valuable insight into the secrets that the wedding industry is hiding from you ... trust me, you don't want to miss it.