Need a little help decoding the complex, often frustrating process of creating your wedding GUEST LIST? 
Finalizing who will actually receive a wedding invitation is a process that will likely take some time, revisions, cuts, and LOTS of patience.
In this week's featured wedding planning meeting, we're uncovering the KEY CHECKPOINTS to crafting a guest list that honors your wedding vision & budget, and reflects your top priorities.
Smart Tips for Crafting Your Wedding GUEST LIST | episode dated 10.26.22
Once your general wedding budget and a venue are decided on, compiling a finalized guest list is the next key step in the early stages of planning out your wedding celebration.
Of course, family & friends are the centerpiece of our lives.  Naturally, you'll want to include your closest loved ones in this very special celebration.
That's the easy part …
Planning your wedding involves a ton of strategic research & decision-making.  That's the stuff you can look up on Google.  How to book a wedding photographer.  Cheap wedding invitations.  Top wedding venues in my area.   
But there's an entirely separate dimension of your engagement & wedding planning journey, that you'll hear me call "the new way to plan your wedding" – and that's all stuff that you can't google.
No internet search engine in the world knows your priorities, or your personal values.  Google can't spit out a truly personalized road map to the wedding that YOU WANT.  You can't look up "how do I confidently sail through my engagement on-budget, stress-free, and loving the process?"  
Computers can do a lot, but they can't replace the priceless value of human connection and introspection.  That's what I'm here for, and that's the deeper work that I can help coach you & your fiance through.
Thousands of engaged couples ARE confidently sailing through their engagement on-budget, stress-free, and loving the process, and you can do it to inside my digital wedding planning package, The VAULT. 
If you're curious to know more, head to wedpodcast.com & sign up for a free 3-day trial.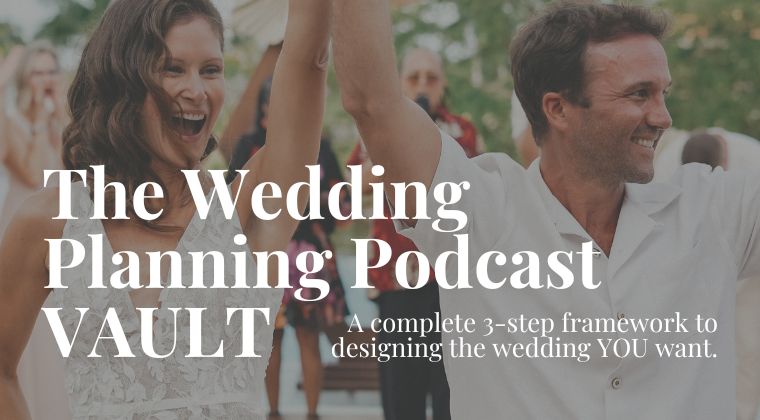 ASK ME ANYTHING …
Submit your wedding budget questions for this week's bonus "Ask Me Anything" >>> send a DM on Intsagram to @weddingplanningpodcast
FREE ENGAGEMENT STARTER KIT BONUS SERIES
Redeem at allnew.wedding
There's an ALL NEW WAY to plan your dream wedding …
… and you won't find it on any free wedding checklist or generic planning timeline.
In the FREE Engagement Starter Kit BONUS SERIES, we unlock exactly how to align your WEDDING PRIORITIES with your PLANNING STRATEGY, so that you can confidently design an unforgettable wedding celebration – minus the crushing stress & overwhelm felt by so many engaged couples.
SIGN UP TODAY for this incredibly valuable (totally free!) 4-day wedding planning workshop by visiting allnew.wedding