Wedding expenses are adding up, and today on the Wedding Planning Podcast, we're going to explore FIVE unique wedding "side hustle" ideas.
Tune in + learn how to earn some extra cash to cover those mounting wedding costs … and keep your credit cards in your wallet!
A couple weeks back on Instagram stories, I asked if you would be willing to take on a side hustle to earn more money to invest in your wedding, and an overwhelming 85% of you said YES.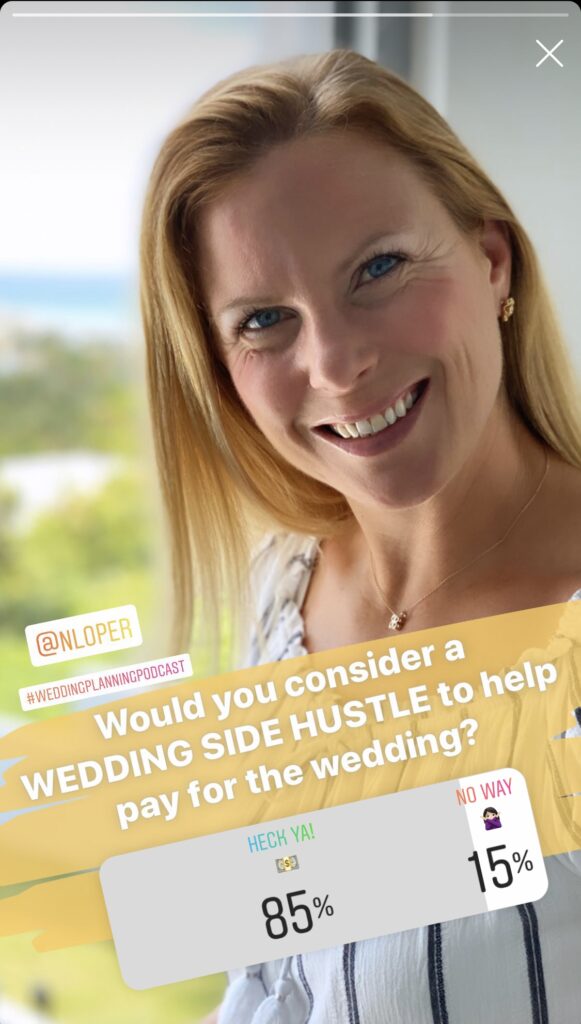 As someone who has done the "side hustle" multiple times in my entrepreneurial journey, this topic is very near & dear to my heart. Today's show is inspired by my own experiences, and also by my friend Nick Loper, creator of the Side Hustle Nation blog and podcast.
View a special video message from Nick here, and read on for our favorite wedding SIDE HUSTLE ideas!
WEDDING SIDE HUSTLE #1 | BUY LOW / SELL HIGH
Turn your love of thrift stores & vintage treasure hunting into money in the bank!  For a TON of inspiration, check out these sites:
You could re-sell vintage band t-shirts that you find at your local GoodWill, refurbish & flip furniture, or even sell stuff you already have cluttering up your cupboards & garage.  Your imagination is the limit!
Some great sites for re-selling:
SERVICE-BASED WEDDING SIDE HUSTLE ideas …
This one is super easy – look in your community for a need, and fulfill it with your time & talents.  Some of my favorite service-based side hustles are babysitting, social media management for small brands, and dog walking / pet sitting.
CREDIT CARD INCENTIVES
Sign up for a new credit card, get cool free stuff.  Easy, right?
(This one also comes with a disclaimer that charges should be paid off immediately to avoid high interest rates and DEBT.)
A great resource for credit card rewards program comparison shopping is CardRatings.com.
EXPERIENCES
Learn how this meditation specialist turns her practice into MONEY!
Side Hustle Nation Episode #347 – Air bnb Experiences
Tourists are always willing to invest money in unique experiences.  If you live in a destination that travelers frequent, think of how you can turn your local knowledge into a memorable outing.
Maybe it's yoga in Central Park, a detailed walking tour of historical spots in your town, a local pub crawl or winery tour, or an adventure experience like hiking or camping.
THE PERFECT WEDDING SIDE HUSTLE?  CREATIVITY TURNED INTO CASH ON ETSY
*this section includes affiliate links*
Are you creative, crafty, and full of artistic ideas?
I sold my first item on Etsy back in 2011, and fell in love immediately with creative entrepreneurship.  If you're a maker, and constantly having others ask "where did you get that???" then an Etsy online storefront is just the ticket for turning your crafty tendencies into cash!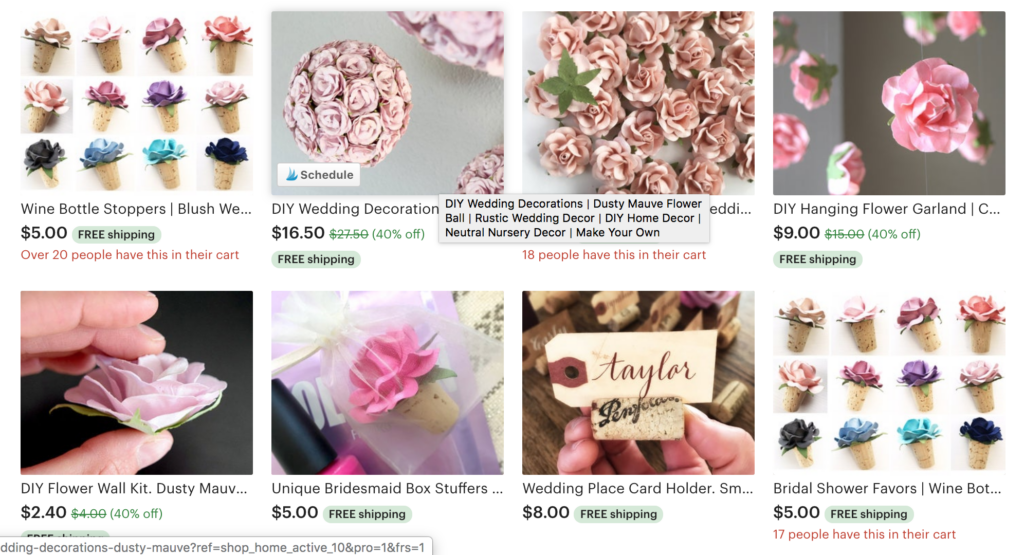 I hope you loved today's episode & are inspired to go out & get started with your wedding side hustle!
Cheers until next time,
xo Kara