This week's episode of the Wedding Planning Podcast is designed to focus on the most critical part of your wedding day – your wedding ceremony.  
In the midst of wedding planning chaos, the ceremony can get pushed to the end and miss getting the full attention and creativity it deserves. 
Do yourselves a favor & start thinking about your wedding ceremony early … don't let this become a last-minute item on your wedding planning to-do list!  
Your wedding ceremony is literally the WHY of the entire wedding day, and today we're going to review:
Ceremony flow of events,

Finding an officiant, 

Your wedding vows, 

And finally some additional ways to incorporate meaning and personality.
A well-crafted wedding ceremony will perfectly express your relationship as a couple.  It should make your guests understand exactly why they are at the wedding, and may address the couples past, present and future. 
We can be serious, lighthearted, traditional or a mix of all three – your ceremony doesn't have to follow any script, and you're free to personalize this portion of your day in any way you like!
LINKS MENTIONED IN TODAY'S EPISODE: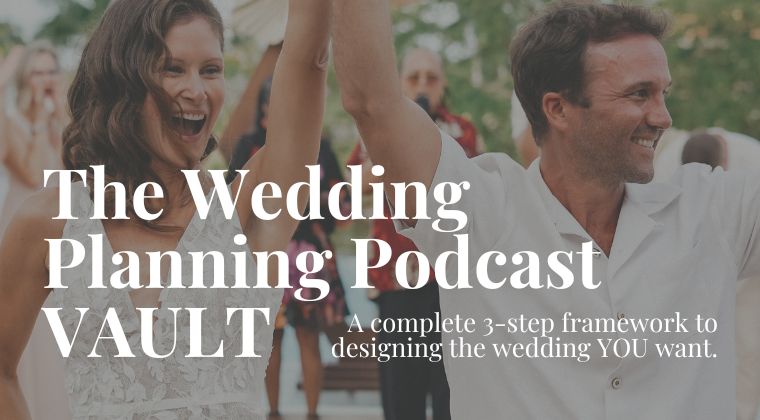 Welcome to The VAULT, a unique subscription-based planning tool for couples who are dreaming of an UNFORGETTABLE WEDDING CELEBRATION …
minus the crushing stress, expense, and overwhelm felt by so many engaged couples. Inside you'll find a complete 3-STEP FRAMEWORK that shows you exactly how to design the wedding YOU want, from start to finish.
Sign up today for a totally free zero obligation 3-day trial by visiting www.wedpodcast.com