I'm willing to bet that you've heard from all your newlywed friends & family that their wedding day "came and went in the blink of an eye." 
The beautiful news is that your wedding celebration doesn't have to RUSH BY IN A TOTAL BLUR!
Today on the Wedding Planning Podcast, I'm bringing on a very special guest to share the details of exactly how she designed a wedding celebration that left her saying this:
"I always get to look back and say that it was the most incredible 4 days of my life."
To go along with our conversation today, I'm incredibly excited to introduce Wedding Weekend by Design!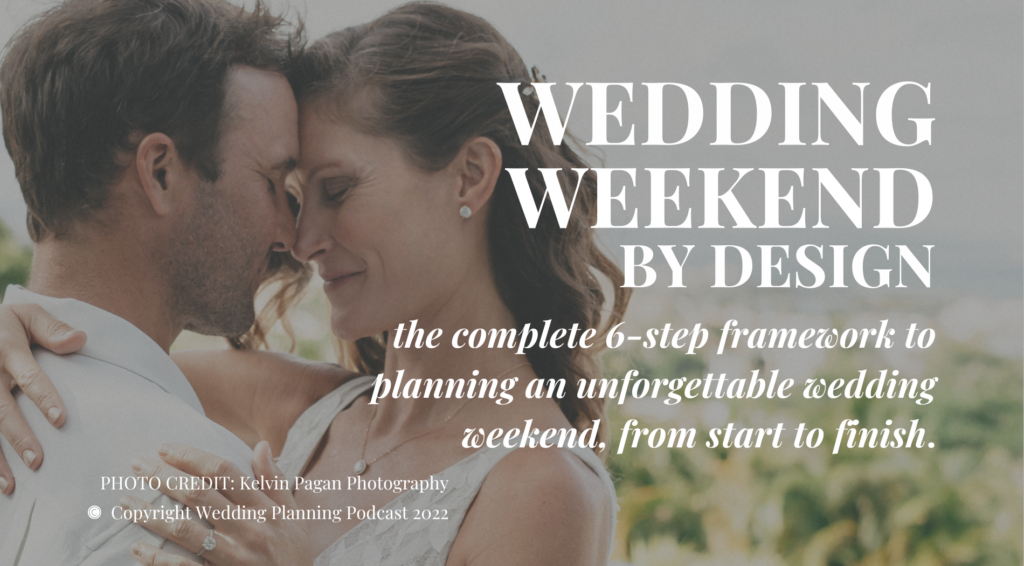 WWBD is a digital planning package that walks you through a simple, 6-step framework to designing your perfect wedding weekend celebration …
… so that when we flash forward a few months, you're echoing what Kate just said – and not left feeling like it was all over in the blink of an eye.
To sign up for the Wedding Weekend By Design digital planning package, visit weddingweekend.co
The intuitive planning framework inside WWBD is designed to proactively steer you clear of the mistakes I see couples make over & over again, so that you can design your entire wedding weekend with CONFIDENCE + EASE.
You'll enjoy a 6-STEP PLANNING FRAMEWORK that's incredibly easy to follow, and works with any budget, any timeline, and any hosting format.
I'll show you exactly how to:
Design your master schedule,
Budget for various events & pre-parties,
Find the best venue to fit your vision,
Uncover creative options & workarounds for food & drinks,
Get and stay organized, and make an airtight communication plan,
And you'll even have access to sample wedding weekend schedules & menus so that you can get inspired by what other couples have done!
I can't wait to see you inside Wedding Weekend By Design!
xo, Kara