Hidden wedding expenses are literally around every corner, and sadly many engaged couples fail to plan for them.
Tune in to this week's episode of the Wedding Planning Podcast for a rundown of the top TEN hidden wedding expenses that most couples miss … and learn how you can proactively plan for them!
Listen here, and scroll down for full show notes: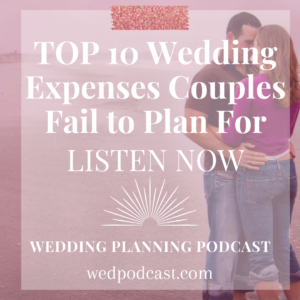 POSTAGE FOR INVITATIONS
100 wedding invitations, 2 ounces = $78 + $58 for return RSVP stamps.  ALTERNATIVES?  Electronic invites, or RSVP via your wedding website. 
DRESS & TUX / SUIT ALTERATIONS
Depending on the style of your dress, plan for anywhere from a couple hundred dollars, on up.  Prioritize the importance of buying a dress that naturally fits you well.  If your budget is $2000, then your actual dress should be more around the $1500 price point.  After taxes, alterations & shape wear, you'll get to the $2000 mark really quickly. 
MEALS FOR VENDORS
When you're calculating your final guest count, don't forget about your vendors, many of whom will include a stipulation in the contract that they are provided a full meal.  $100 / plate times your 3 photographers, 2 videographers, DJ, wedding planner and her assistant – that's $800.  Plan for it.
TAXES, SERVICE FEES, TIPS & GRATUITIES
Depending on the size & scope of your wedding, this category can balloon out of control in the blink of an eye.  The best way to be on your toes is to be aware of your contracts, and keep yourself accountable to an accurate tally however you're tracking your budget. 
Putting $5000 in for "Venue" simply isn't accurate if you're not including the taxes, mandatory service fee, and mandatory 20% gratuity that's written into your contract.  That final number might actually be more like $7,000 – $8,000.  Don't be like most couples who sweep it under the rug, plan as if the venue price is $5000, and then wind up way over budget at the end of the day because they were being blind to the actual situation. 
RENTAL ITEMS
Another potentially HUGE expense.  There are lots of creative ways to get around exorbitant rental fees – enough to consume an entire episode on this topic alone – in a nutshell for today's purposes, chose your venue carefully, and shop around for options.  
DELIVERY, TRANSPORTATION, SET UP FEES
These items will typically be hidden within your contracts, and it's important to be aware of and plan for them.  As you're reviewing the final details with potential vendors, it never hurts to ask upfront what additional fees you need to be aware of and plan for.
Much like we discussed with your venue – if your florist's package price is $2000, but there's a delivery fee of $400, a fuel surcharge of $100, and set up / take down fee of $500 – then your budget needs to reflect $3000 for your florist line item, not $2000.  See how sneaky this stuff is???
OVERTIME FEES FOR YOUR VENDORS
Chances are, one or more vendors will wind up being on site longer than you planned.  Be aware of overtime fees ahead of time, and plan a cushion in your budget to accomodate.
GUEST TRANSPORTATION
Lots of couples will shove transportation off to the end of planning, and wind up in a bind making a last-minute, impulsive decision.  Decide what your approach will be on providing rides, and make a decision early on in your planning so that this isn't a last minute budget item that winds up costing you thousands of unforeseen dollars.  
WEDDING INSURANCE
I can't tell you if you need it or not, but I can tell you that it's definitely worth looking into early in your engagement versus waiting until the end when you don't feel like shelling out another few hundred dollars. 
Side note, many venues may require you to provide an auxiliary insurance policy for damages and / or alcohol service.  In most cases these separate policies don't cost more than a couple hundred dollars.  Plan for it within your venue expenses.
ADDITIONAL EVENTS – REHEARSAL, WELCOME PARTY, FAREWELL BRUNCH
Of course it will come as a surprise to exactly no one that these auxiliary events can put a big dent in your budget if you don't proactively plan for them, in addition to the other million things you're paying for.
The good news is that a meaningful welcome party, rehearsal, and post wedding brunch can all be planned and executed at an affordable price point.
To keep things organized, make a rough guest count for each event.  Brainstorm potential venues and hosting formats. Assign at least an estimated dollar amount to each event, early on in your planning.
And if you're only a couple months away from wedding day and you decide relatively last minute to add on a welcome party and / or brunch, that's awesome – please don't let budget keep you from doing either or both!
Lean on your family & friends for help.  This is a great planning item to delegate to people who are asking how they can help with the wedding.  Organize a casual BBQ welcome party in a friend or family member's backyard.  Ask a few people for help with side dishes & desserts, and you're looking at a super affordable event that will add priceless memories and extra time spent together over the course of your wedding weekend.
Visit this episode for much more on hosting a "DIY" style charcuterie spread – PERFECT for any of these extra parties!