DIY wedding appetizers is a wonderful opportunity to save a ton of money on your wedding plans! 
Catering costs can be a huge source of frustration for couples.  I can't tell you how many messages I get from listeners who are utterly horrified by the cost for dinner & drinks.
For many of you, food & drinks will be one of THE biggest wedding expenses you'll face.  This ranks right up there with your wedding venue, photography, and videography.
Let's take a moment & think of the wedding meals you've had in the past.  Sitting and looking at your chicken, mashed potatoes & steamed vegetables, you would never have dreamed that cost up to $100, right?
So, are you ready to save you a ton of money on your wedding plans?  Let's review how to set up your own DIY wedding appetizers for the cocktail hour. 
Here's a road map of where we're going in today's show:
DIY Wedding Appetizers | Everything You Need to Know
In today's show, we're going to review:
DIY wedding appetizer menu planning,

A detailed shopping list,

Exactly how much to buy per person,

What it all costs,

And important tips for setting everything up.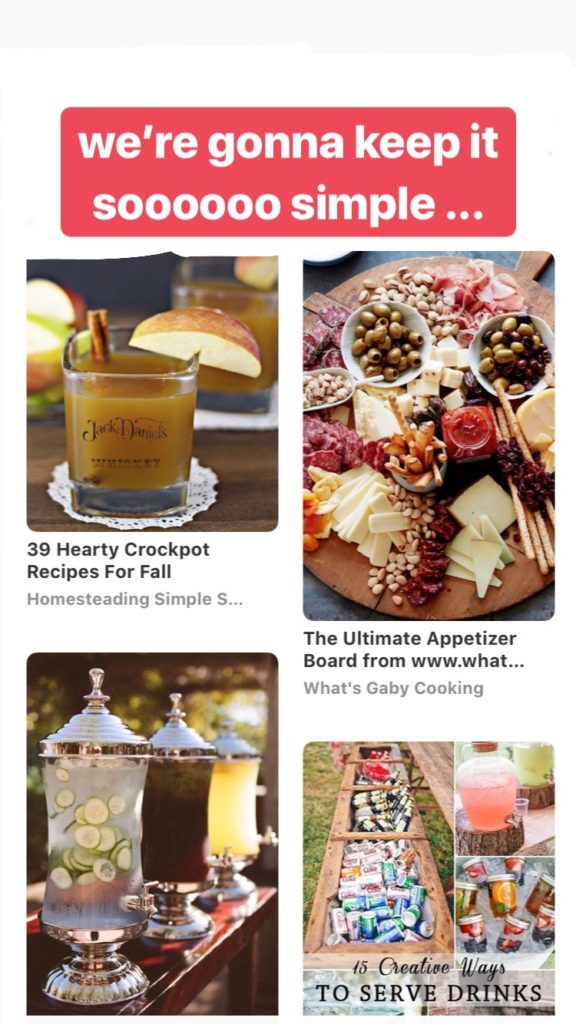 Even if you are using a more traditional caterer for the main meal, DIY wedding appetizers is a wonderful way to customize what you're offering.  You'll also be able to increase the quality, AND save a ton of money.  I mean, what's not to love?  
Easy Wedding Appetizer Ideas | LET'S MAKE A PLAN
Dozens of your wedding planning questions & messages are utterly dismayed about the cost of the cocktail hour.  I get a ton of dollar amounts and ranges depending on where you are in the country.  For a baseline let's go with $15 per person, for cheese and crackers.
Wait, what???
Yes, for a 100 person wedding, that means that cheese & crackers with grapes as garnish will cost you about $1500.
And we're not talking gourmet cheese with honey, nuts, cured meat & delicious breads.  No no no.
We're talking grocery store-quality yellow cheddar cheese and plain crackers. 
(Side note – $1500 is more than I spent on my wedding dress, photographer, and all the flowers, COMBINED.  Seriously.)
For some perspective, I could go to Costco and buy a DIY wedding appetizer spread of cheese & crackers for 100 people and spend $76. 
Say that again?
YES, $76.  That's $0.76 per person – less than a dollar! 
No joke, and we'll go into the numbers and quantities in GREAT DETAIL in just a moment.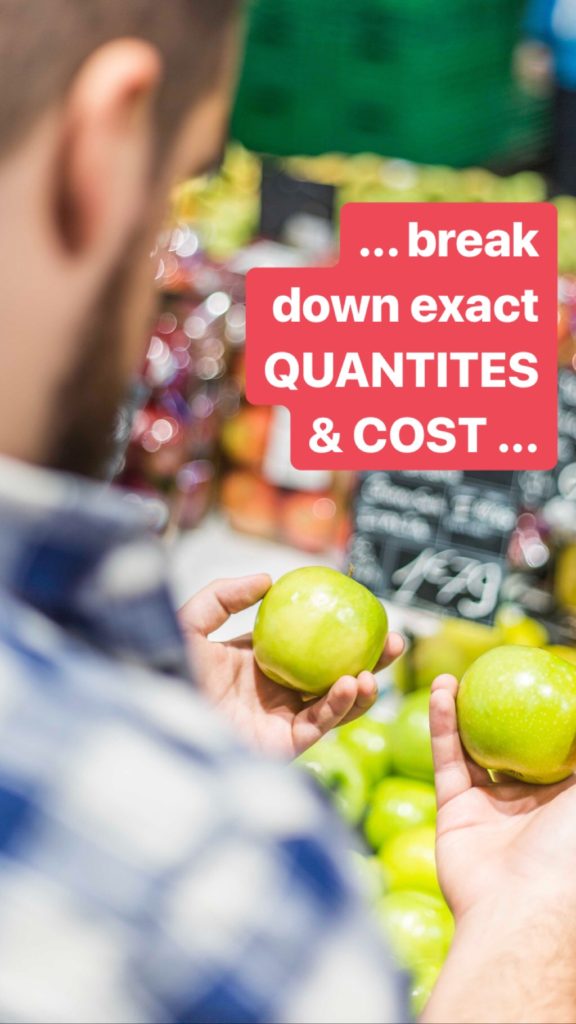 DIY Cocktail Hour & App's for just $0.76 / person
We're going to choose a menu and make a shopping list for two different appetizer spreads.
Let's start really simple, with Appetizer Menu #1.  It includes high quality cheese, crackers, & grapes.
DIY Wedding Appetizer Menu #1
Remember, this was going to cost ABOUT $15 / person from a traditional caterer (of course, a range of pricing will apply depending on where you're located, seasons, and specific offerings).  
At this point in our menu planning, let's figure out how much we need to buy for 100 people.
First, come on into my kitchen & let's do a little experiment …

For this menu, you'll need (per person):
2 oz of cheese,
About 10 crackers
2-4 oz of grapes
I also did some research online and found a few expert opinions on hosting and quantities per person.  (Of course there's a range out there.)  For this menu of just a light spread of cheese and crackers, let's go with the quantities listed above.
Please feel free to round up if you're concerned about not having enough for your crowd.  The cost of the food itself is so low, and always better to have a little extra than not enough!
Next up, let's go shopping!
DIY Wedding Appetizers Menu #1 | WHAT TO BUY
For 100 people, you'll need to buy:
200 oz of cheese (12.5 pounds)
1000 crackers
400 oz of grapes (25 lbs)
The grand total at Costco?  $76 – Amazing!!!!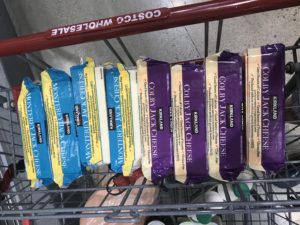 DIY Wedding Appetizer Ideas | Menu #2
For Menu #2, we're going to do a much bigger gourmet service.  This menu includes meats, multiple kinds of high quality cheese, nuts, and more.
This appetizer spread is perfect for the following situations:
Maybe you want to serve a much more filling appetizer round because your main wedding day meal is pretty light.

This menu is also great if you want to go all out & over the top (simple cheese & crackers just isn't gonna cut it!).

And lastly, if you're doing a cocktail-style wedding reception without a main meal, this more expansive & filling selection will be perfect for you & your guests.
We're going to serve …
4 kinds of cheese,

Nuts,

Dried cranberries & apricots,

Dried meats,

Olives & pickles,

Gourmet crackers,

Jam, honey & mustard,

& Grapes (or any fresh fruit you like)
DIY Appetizer Menu #2 | QUANTITIES
How much cheese, meat, nuts, crackers, grapes will you need per person?
Let's plan for a little more cheese per person, since we have multiple kinds being served.  Also remember, this is meant to be a heartier menu.

 

We're going to up the cheese to 3 oz per person, which is about 19 lbs total.
Dried meat – 2-3 oz per person.

  L

et's meet in the middle with 250 oz (16 lbs).  Definitely check out this mixed pack from Costco of prosciutto, dried salami, & dried capicola – delicious!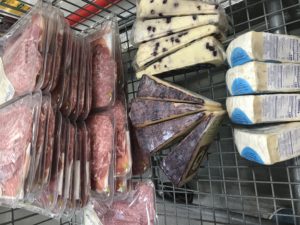 Crackers – 10 per person / 1000 crackers total.

Olives & pickles – 4 per person / 400 total

NUTS – 2 oz per person / 200 oz total

Grapes / fresh fruit – 4 oz per person / 400 oz (25 lbs)

Spreads – we're going to shop for honey, jam, and spicy mustard.  These are all wonderful additions to a charcuterie appetizer spread.  One to two jars of each should be plenty.
DIY WEDDING APPETIZERS | Detailed Shopping List & Pricing Spreadsheet
DIY Wedding Appetizers | A peek inside my shopping cart!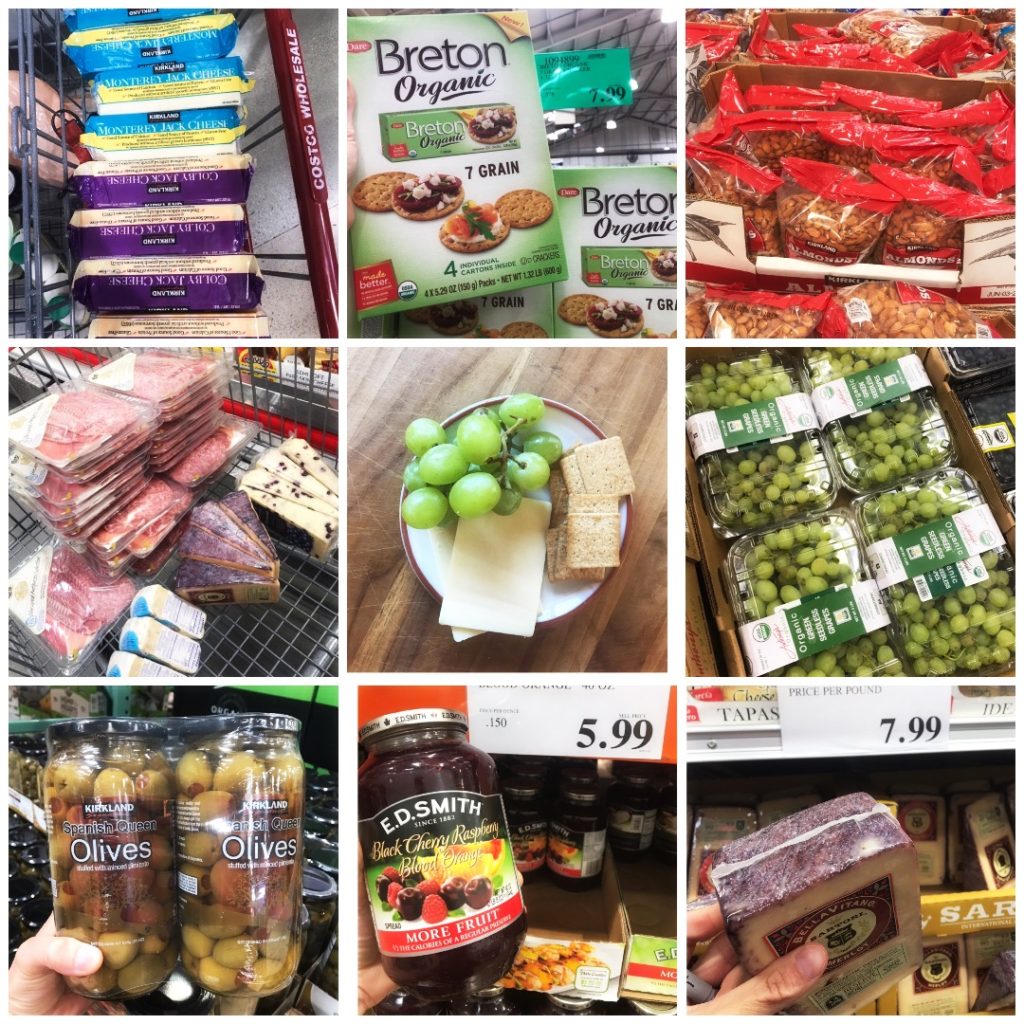 DIY HAPPY HOUR GUIDE | IMPORTANT THINGS TO CONSIDER
Now that we've reviewed our two menus, let's pause and touch on some really important considerations you'll need for setting everything up.
Who can set up your DIY appetizer spread on the wedding day?

 
These menus are great because we're not dealing with a bunch of perishable, temperature-sensitive foods.  However, meat and cheese obviously can't be left out for hours and hours.  You WILL need someone available to get things set up in the hour or so before guests arrive.
Some suggestions:
Ask a couple of aunts and or cousins to hustle to the reception site from the ceremony and get everything laid out. 
(Remember NOT to designate your wedding party members or immediate family for this job!  You'll all be busy with photos, greeting guests, etc.)
If you're using a day-of coordinator, make sure to discuss this with them to get their thoughts.  Remember, they will be busy keeping everything in motion during this full-swing portion of the day.  I'm not confident that pulling them away for an hour to set up appetizers is the best use of their time.
PREPPING YOUR APPETIZER SPREAD
Another really important prep item for your list is slicing the cheese, and cutting grape bunches for easy grabbing. 
The only catch with those big, delicious blocks of cheese from our first menu? They do NOT come pre-sliced :/
Plan this out to make sure you don't get caught in the last minute with your poor aunt trying to frantically slice 6 giant blocks of cheese.  I'd recommend getting together with your "helper squad" a couple days before the wedding to slice cheese, and check off the other important prep items from this section.
(Another option of course is to buy pre-sliced cheese which is available at your warehouse store like Costco or Sam's Club.  It'll be a bit more expensive, and maybe slightly lower quality, but the slicing work will be done for you which is nice.)
Map it out | What should your DIY wedding appetizers look like all set up?
I'd recommend drawing a simple map of what you want to be set up, and where.
Consider available table space, counter tops, or bar areas within your reception space.
I don't recommend setting everything up in ONE spot.  Things will get really crowded if 100 people try to access the food at one time. 
Ideally, I'd break up your spread among 3 – 4 different locations within your space.  This way, people can easily access things at arm's length while they visit, without having to wait in line.
It's also really important to consider any serving dishes you want to include.  Think of small bows for nuts, spreaders for the jam & honey, and tongs for picking things up. (Tongs are optional in my opinion, but maybe nice to have a few on hand).
Have all of these little extras laid out and ready to go so they're not missed in the last minute hustle.
DIY Wedding Appetizers | SETTING IT ALL UP
My favorite way to set up this style appetizer spread is on long rows of parchment or butcher paper, directly on table tops. (You'll find parchment paper at the grocery store by the aluminum foil and plastic wrap.) 
Serving everything laid out organically looks really colorful & inviting!  This casual set up also gets you out of having to find / borrow or buy a bunch of boards and serving platters.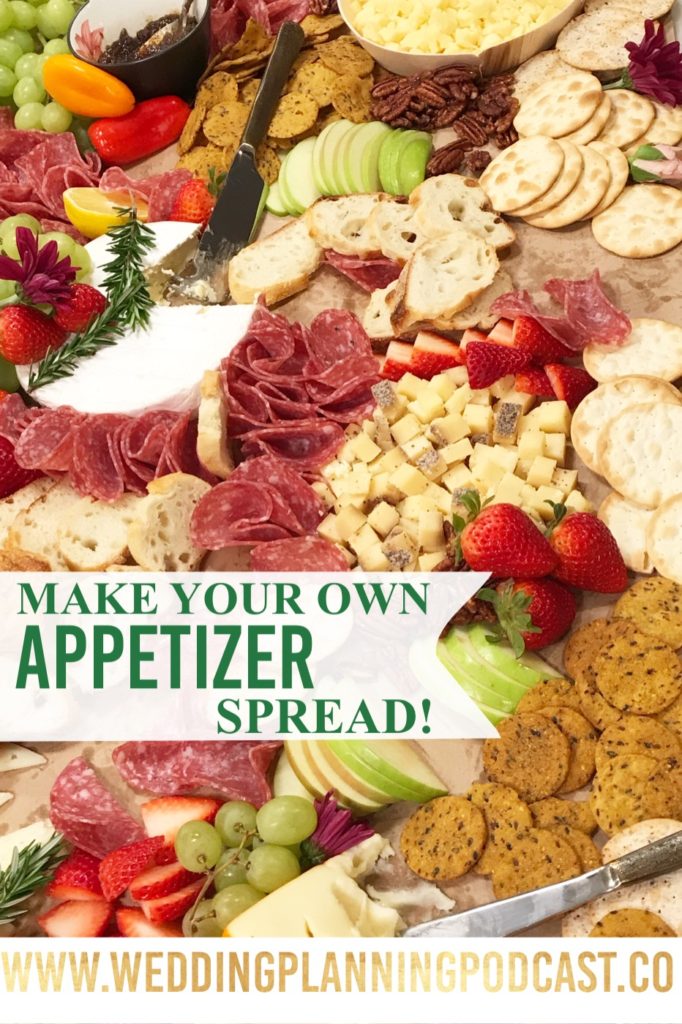 Don't forget small plates & cocktail-sized napkins!  You can use high-quality paper plates, and set the cocktail napkins set out where they can't be missed.
NONE of these details are meant to scare you off – I'm 1000% confident this project is totally worth the time & effort you'll invest. 
DIY Wedding Bar | Beer & Wine
I toyed with including drinks in this episode, and decided against it – I didn't want to overwhelm you with too much info in one show. 
I WILL be running an episode next week about doing your own beer and wine for the wedding.  Make sure to tune into that show for everything you need to know about how much to buy, & shopping for good deals.  Talk about HUGE savings, being able to bring in your own alcohol is a total life saver on the budget!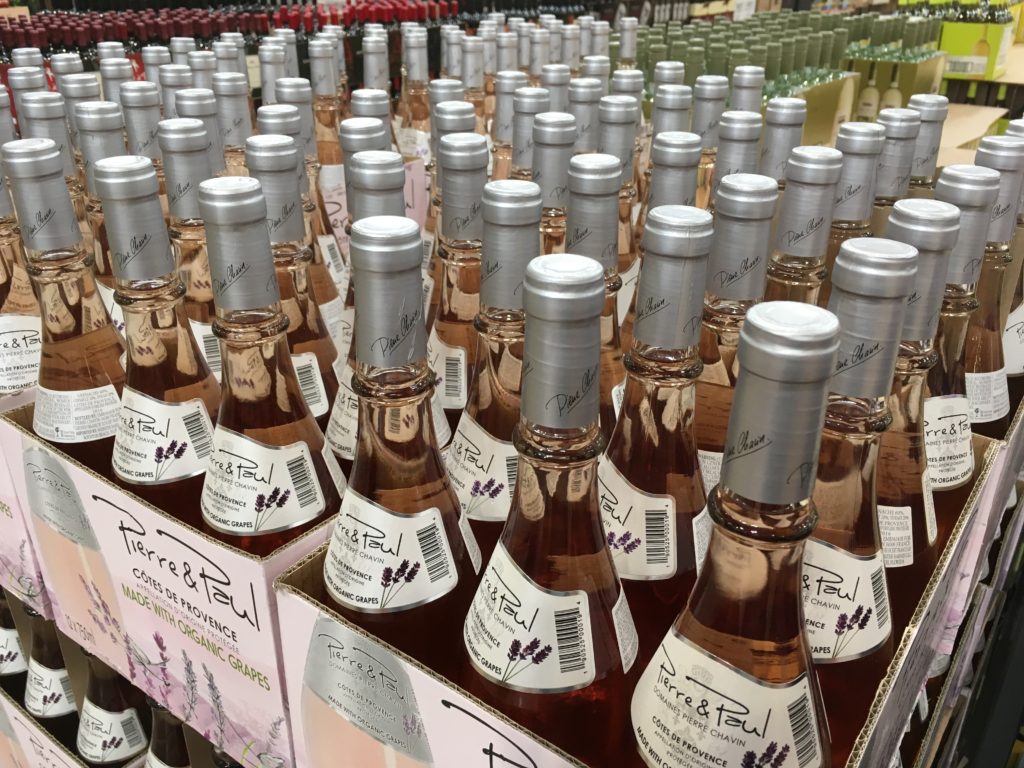 DIY Appetizers | NOT JUST FOR WEDDINGS!
The process for DIY wedding appetizers isn't just for the wedding day!  This method is appropriate for lots of different types of events, like your bridal shower, or rehearsal dinner.
These menus are perfect to use as the traditional appetizer course.  They are also perfect for a cocktail-style wedding reception, where you're NOT serving a main meal. 
Even if you listen to today's show and think, "DIY appetizers for the wedding day, nope!  Definitely not for me!" – the process translates into ANY event you host.  Whether it's your rehearsal dinner, a birthday party for 50 people, a dinner party for 12 friends, or an intimate wine & cheese tasting for your girlfriends?  These two menus are perfect.
DIY Wedding Appetizers Listener Question
What if we can't bring outside food into our wedding venue?
If your venue doesn't allow any outside food or drinks, you can definitely still use this method for a pre-wedding event like your bridal shower, or rehearsal dinner.  Forward this post to anyone helping you plan those events, AND bookmark it for the future!
And for those of you early in your engagement who have NOT yet chosen a venue?  Choosing a space that DOES allow you to bring in outside food & drinks is going to give you a ton of flexibility in your plans.  I highly recommend making that a top priority item as you're shopping for wedding venues.  It will pay big time dividends down the road as your plans start to come together. 
DIY WEDDING APPETIZERS | Let's Wrap it Up!
I hope you loved today's show as much as I loved putting it together & sharing it with you! 
Planing on doing your own wedding appetizer spread or cocktail reception?  I'd absolutely love to hear all about it!
Send the creative menu items you're including, who's helping with the shopping & set up, what you're budgeting, and any of your creative touches!
 You can shoot me a DM on Instagram or be in touch at weddingplanningpodcast.co/contact.
Oh yeah, and of COURSE I have a Pinterest board dedicated to this topic 😉 -> find it here:

Thank you so much for sharing this time with me, and let's talk next week all about shopping & setting up your own beer & wine for your wedding reception!
Cheers to you!
xo, Kara