Engagement photos are an incredible opportunity to capture you & your fiancé in your happiest moments, and to share those images across your save the dates, your wedding website, holiday cards, and as decorations throughout your wedding celebration.
The thing is, choosing the perfect outfits, getting hair & make up just right so that you look incredible but still natural, and posing effortlessly is actually much harder than it looks.  
Choosing what you're going to wear and struggling through a last minute hair and makeup session an hour before you meet your photographer is not a great idea, to say the least.  
Neither is waiting until you show up to find out that your fiancé has the worst stage fright, and looks like Chandler from Friends (season 7, episode 5, The One with The Engagement Picture) because they suddenly can't smile.  
Today on the WPP I have a handful of tricks and tips to make sure your engagement photo shoot is smooth, seamless, and yields those perfect shots that you've been dreaming of sharing with all of family, friends, and friends of friends.  Let's get right into it!
Engagement Photo Shoot Tip #1
GET FAMILIAR WITH AN OVERVIEW OF THE PROCESS
A great starting point is to ask your photographer what you can expect on the day of your shoot.  How long will you meet?  Do they have suggested poses, or are they relying on you to guide the process?  Will there be opportunity for any outfit changes?
Having this information ahead of time is an invaluable way to get yourselves prepared for exactly what to expect.  
Engagement Photo Shoot Tip #2
LOCATION
What potential backdrops will offer beautiful opportunities for great shots?  Major bonus points if you can choose a place that also reflects a meaningful aspect of your relationship.
My husband John & I lived on the beach in Mission Beach / San Diego when we got engaged, so we worked in photos of us on our beach cruisers on the boardwalk, and also some poses of us in his red doorless Jeep Wrangler that he brought with him from Michigan when we moved in together.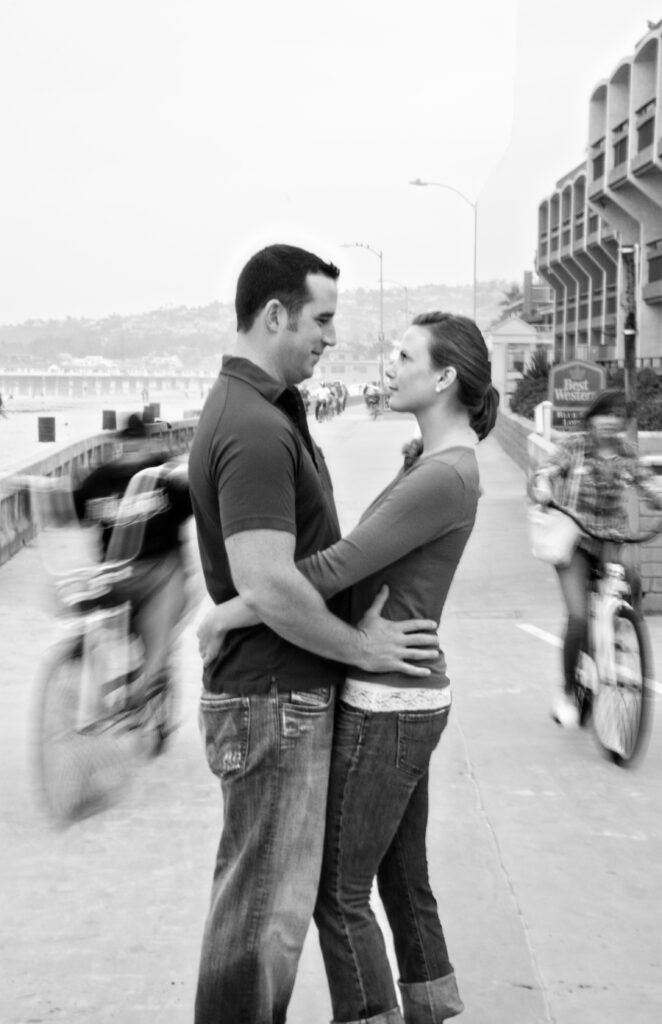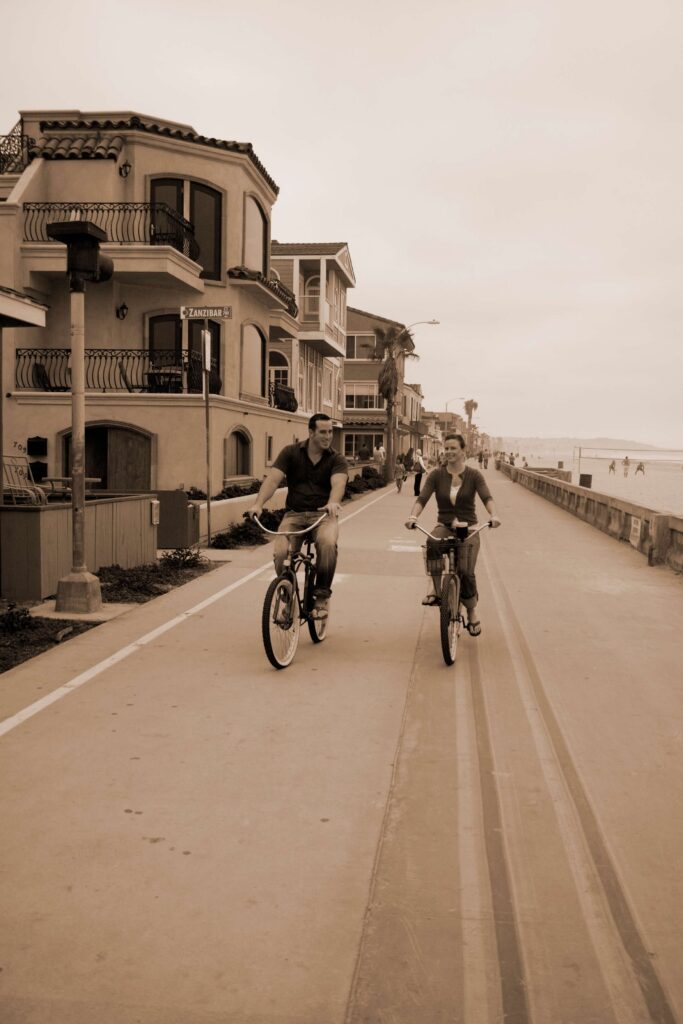 Think of some offbeat locations in your area, and be sure to reach out to your photographer to run it by them to review for lighting and ideal time of day.  
Engagement Photo Shoot Tip #3
PLANNING AHEAD FOR OUTFITS
If you can do an outfit change or two during your session, use that opportunity to expand the color palette and overall look of your collection of photos.
If you have a color palette in mind for your overall wedding look, use those colors throughout your clothes and accessories for a cohesive look across your save the dates, wedding website, and signage.
As for specifics of what to wear – be you, be comfortable, and whatever makes you feel confident!  This could be jeans and t-shirts, or fancy clothes. 
If you feel uncomfortable in what you're wearing, your photos will likely reflect that.  The lens will pick up confidence in your smiles and your eyes, so do you when it comes to clothes.  
Same goes for props like hats, scarves, sunglasses, statement jewelry.  There are no rules, as long as you feel comfortable in it. 
Engagement Photo Shoot Tip #4
HAIR AND MAKEUP
We all have varying levels of comfort with hair & makeup.  If you're a pro at doing your own, awesome.  If you're not, that's OK!
For makeup, I love DIY tutorials on YouTube.  Find a friend or family member to help if you're totally lost.  I don't personally invest a ton of money in makeup products, I think anything you find at Target will be just fine.  Try colors & products ahead of time so that you can make adjustments if necessary.  
If you plan on doing professional makeup for your wedding day, this would be a great opportunity to do a trial.  You may not necessarily want as thick of an application for your engagement shoot, so explain that when you set the appointment.  It's still a great way to work with an artist and get to know them, and make sure your styles are compatible.  
For hair-styling, same idea as with makeup – schedule a trial to coincide with your engagement photo shoot.  Although you may not want the same hairstyle for your wedding day that you're going for in engagement photos, this is still a good way to get to know a hair stylist if you've never worked together in the past. 
My hair guy does my cut, color, style, and he also does bridal hair – so for example, I could schedule a cut and color to line up with engagement photos, and use that opportunity to get a professional wash, blow out, and style in conjunction with looking awesome for photos!  Win, win.  
Engagement Photo Shoot Tip
DIY ENGAGEMENT PHOTOS
There are lots of scenarios where a professional photo shoot doesn't work out due to travel, budget, or availability in your area.
If you don't have the opportunity to do an engagement shoot with your wedding photographer, I have great news – setting up a "do it yourself" mini photoshoot is totally doable.
All you'll need is a good quality camera – chances are you have one right now that you're listening to this show on – and a trusted friend or family member to take the pictures.  That's it!  
Follow all the guidelines we reviewed here for outfits, location, hair, and makeup.  
Look up "engagement photo shoot poses" on Pinterest, or browse Instagram for inspiration of poses that you like.  
Be mindful of your lighting – the "golden hour" at sunset offers beautiful lighting, and so does soft shade, or naturally lit outdoor hallways.  Avoid dark shade and direct sun.  
And one last tip for your "DIY" photo shoot – talk with the person taking your photos for a relaxed and natural look.  Tell jokes with your fiancé as you're posed to capture genuine smiles and laughs.  I was inspired to add on this do it yourself guide by my sister Kate – despite having a very generous wedding budget, their location, photographer availability, and travel schedules was not lining up with a professional photo shoot, so she had a close friend take the photos for them, and they turned out just beautiful.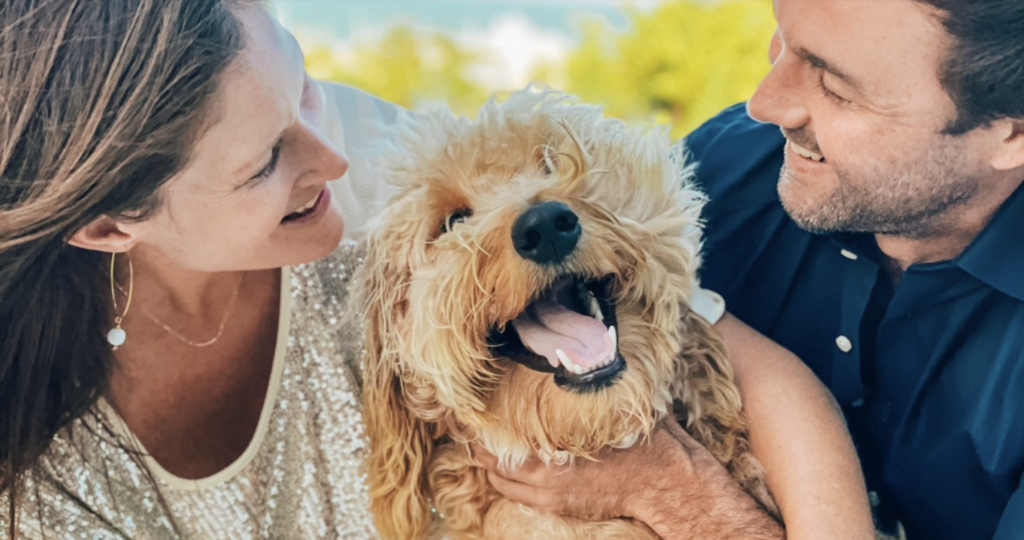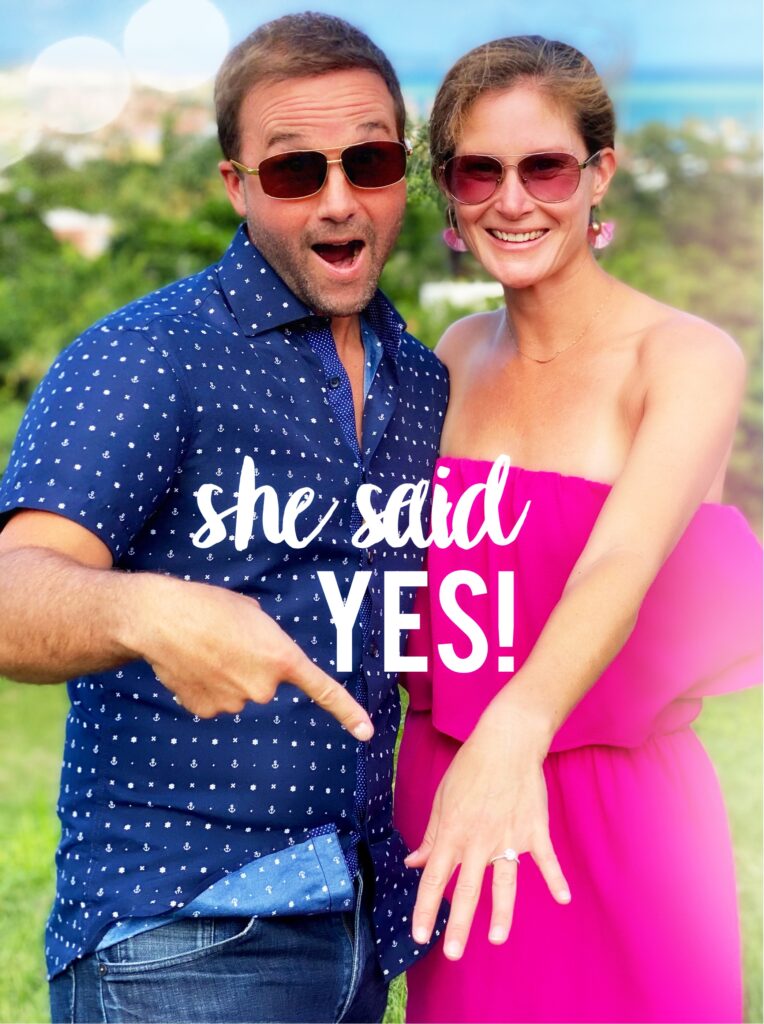 Engagement Photo Shoot Tip #5
CREATIVE WAYS TO USE YOUR ENGAGEMENT PHOTOS
And once you have the perfect engagement photos, it's time to show them off and maximize the heck out of those beauties over the coming months!
Here's a quick list of my favorite ways to incorporate your engagement photos into the coming months:
Save the Date announcements – some beautiful designs are available from our friends at Minted Weddings.
Your wedding website (beautiful free templates also available from Minted Weddings)
Enlarge as canvas prints and hang in your home (love this site, Smallwoods)

Christmas gifts for your parents

Use on your holiday cards this coming year

Print large poster sizes for welcome signs to your wedding welcome party, rehearsal dinner, wedding, and any other events you'll be hosting,

Use 5×7 framed copies as the background for table numbers,

And of course – plaster them all over Instagram or anywhere else you hang out on social for all of your family & friends to enjoy & share in your happiness!
I'd love to see your beautiful engagement photos – please tag me @weddingplanningpodcast on Instagram, so I can take a look.
Cheers until next time!
xo, Kara